Vegetable Samosas
Samosas can be found in many East Indian and African cuisine, particularly along the area's coastal regions.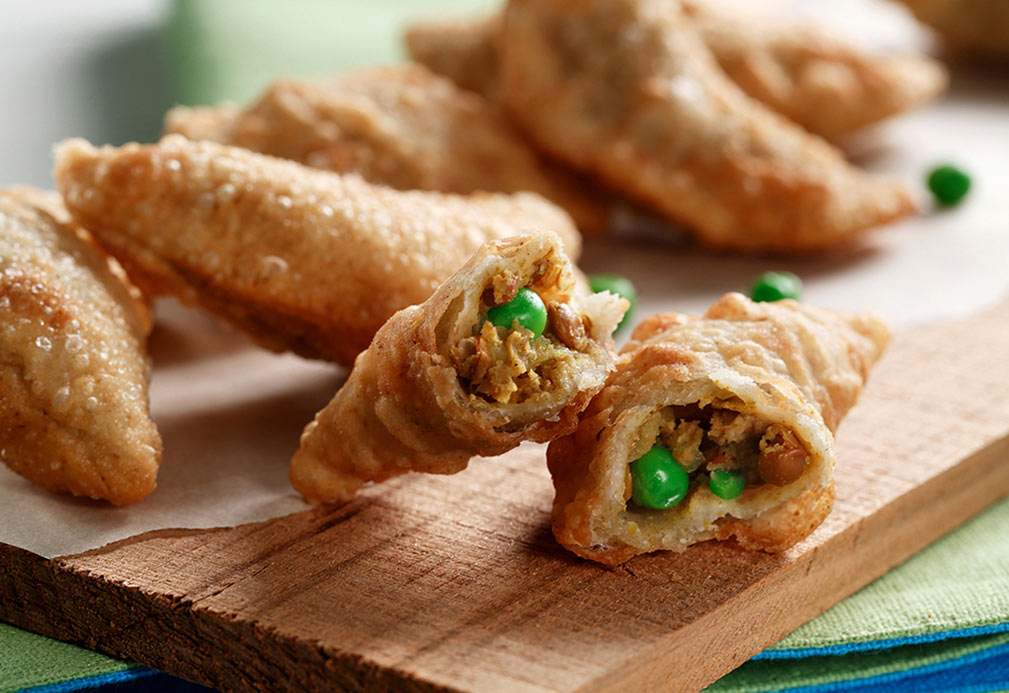 Ingredients
3 Tbsp canola oil 45 mL
1 small onion, finely chopped
1 to 2 cloves garlic, crushed
1 tsp cumin 5 mL
1 Tbsp curry powder 15 mL
1/2 to 1 tsp chili flakes 2 to 5 mL
1 can (19oz/540 mL) lentils
1 large potato, finely chopped
1 cup fresh or frozen peas 250 mL
1 cup water 250 mL
1 Tbsp all purpose flour 15 mL
1/4 cup water, extra 60 mL
Pastry
3 cups all purpose flour 750 mL
3 Tbsp canola oil 45 mL
1/2 tsp cumin 2 mL
1 cup warm water, approximately 250 mL
4 cups canola oil for deep frying 1 L
Instructions
1. In skillet, over medium heat, add canola oil, onion, garlic, curry powder, cumin, chili flakes and cook for 1 minute, stirring. (Note: For extra spicy samosas, increase curry and add cayenne pepper to taste.) Add lentils, cook, and continue stirring for 2 minutes; add potatoes, peas, and water, bring to a boil, reduce heat, and simmer, covered 20 minutes or until potatoes are tender. Blend flour with second amount of water, add to mixture, and stir until mixture boils and thickens. Cool to room temperature before using.
2. To make pastry, sift flour into bowl, stir in canola oil, and cumin, gradually stir in enough water to mix to form dough. Knead on lightly floured surface about 5 minutes or until smooth. Cover, let stand 10 minutes. Divide pastry in half, roll each half to 1/8 inch (3 mm) thickness. Cut into rounds/squares using 3.5 inches (9 cm) cutter.
3. Place 1 tsp (5 mL) of filling into center of each round, brush edges of pastry lightly with water and fold in half. Press edges together with thumb and finger. Repeat with remaining pastry and filling. Deep fry samosas a few at a time until golden brown (about one to two minutes); drain on paper towel. For extra spicy samosas, increase curry and add cayenne pepper to taste.
Yield
32 samosas
serving size
1 samosa
nutritional analysis
Calories
140
Total Fat
7 g
Saturated Fat
1 g
Cholesterol
0 mg
Carbohydrates
15 g
Fiber
2 g
Sugars
1 g
Protein
3 g
Sodium
0 mg
Potassium
134 mg