Vegetarian Sandwich with Sun Dried Tomato Spread
This will definitely be a hit at your next picnic or patio party.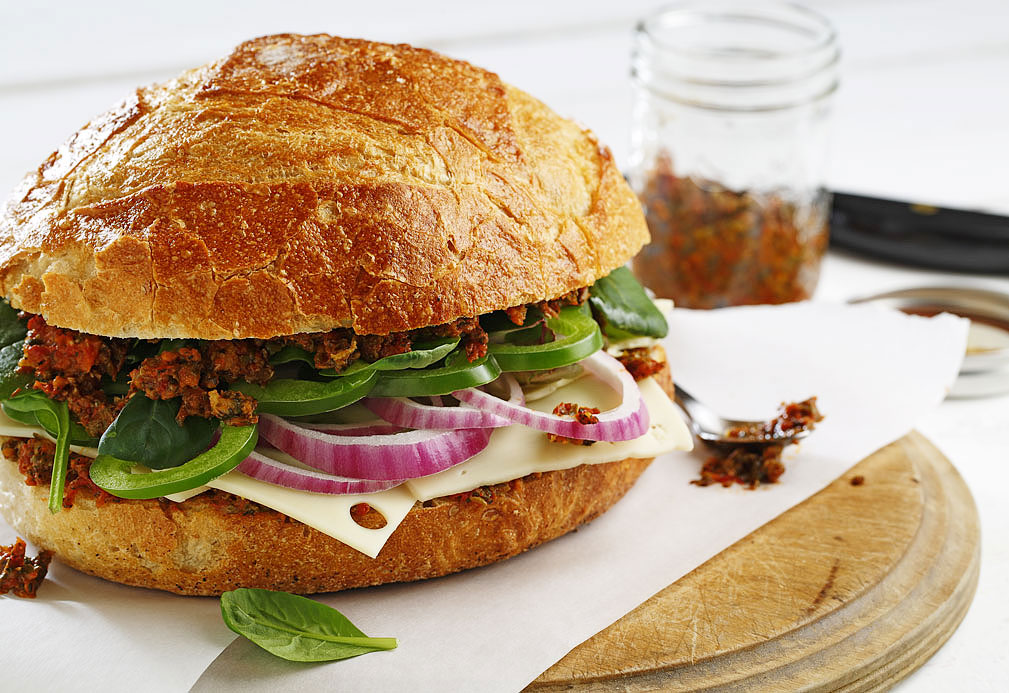 Ingredients
Spread
16 sun-dried tomato halves
1 cup boiling water 250 mL
2 Tbsp dried basil leaves 30 mL
1/3 cup capers, drained 75 mL
4 medium cloves garlic, peeled
1/4 cup canola oil 60 mL
1/4 cup red wine vinegar 60 mL
1 round loaf (16 oz/ 455 g) Tuscan-style bread, halved, creating 2 rounds
Filling
6 thin slices (4 1/2 oz / 128 g) reduced-fat Swiss cheese
1/2 cup thinly sliced red onion 125 mL
1/2 - 3/4 cup thinly sliced green bell pepper 125 - 175 mL
4 cups  (2 oz / 55 g) loosely packed spring greens 1 L
Instructions
1. Place tomatoes in a small bowl, cover with boiling water, and let stand 5 minutes to soften. Place tomatoes, 1/2 cup (125 mL) tomato water, and remaining spread ingredients in a blender; puree until smooth.
2. Spread half of tomato mixture evenly over bottom half of bread loaf and top with filling ingredients in the order listed, starting with cheese. Spread remaining tomato mixture on top half of bread loaf and place, spread side down, on top of lettuce. Press down firmly and cut into 8 wedges.
Fresh Tip: This is a great make ahead sandwich. The spread can also be used as a "tapenade" on crostini or whole-grain crackers.
Yield
8 wedges
serving size
1 wedge
nutritional analysis
Per Serving
Calories
280
Total Fat
11 g
Saturated Fat
2 g
Cholesterol
5 mg
Carbohydrates
34 g
Fiber
3 g
Protein
11 g
Sodium
680 mg