Vietnamese Pho
This recipe was inspired by Pho, a traditional Vietnamese soup. It breaks from tradition slightly in the preparation method, but offers very similar delicious flavors and textures. Try the recipe using vegetable stock and tofu to change it up.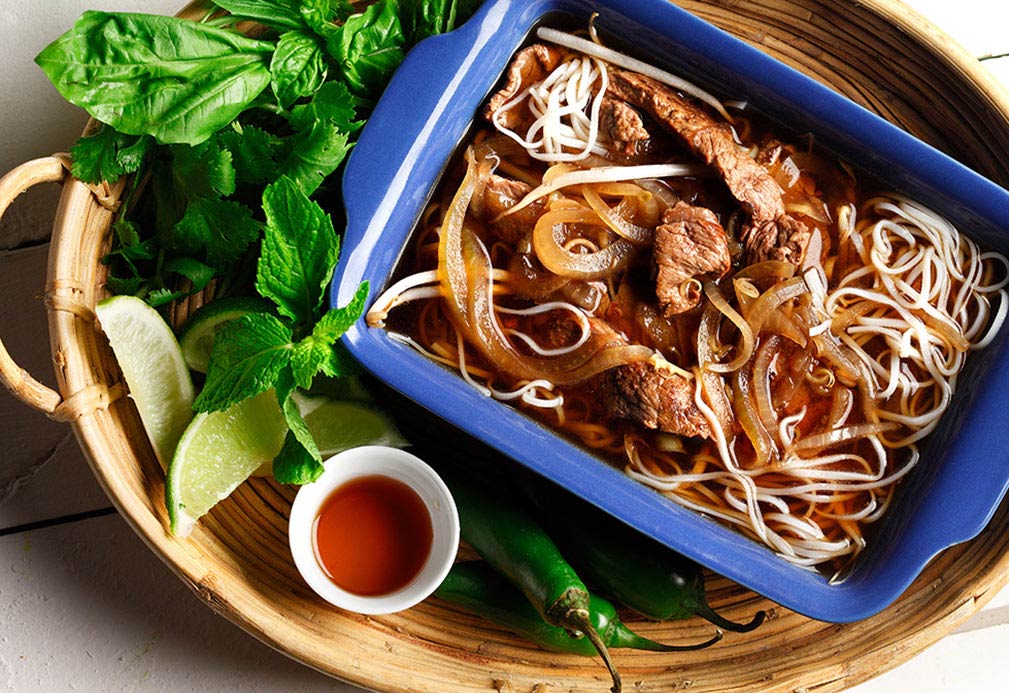 Ingredients
Soup
1/2 lb sirloin tip, sliced very thinly 250 g
1 1/2 Tbsp canola oil, divided 20 mL
1 small onion, sliced into thin rings
4 cups sodium-reduced beef stock 1 L
2 cups water 500 mL
1 Tbsp freshly grated ginger 15 mL
1 stalk lemongrass chopped or 3 Tbsp (45 mL) dried lemongrass 1
1/2 tsp whole black peppercorns 2 mL
1 cinnamon stick
4 oz ounces rice vermicelli noodles 125 g
2 cups bean sprouts 500 mL 
Garnish
1 lime, quartered
1/2 cup each fresh basil, mint and cilantro 125 mL each
1 small jalapeno pepper, thinly sliced (optional)
1 Tbsp fish sauce 15 mL
Instructions
1. In large saucepan, heat 1 Tbsp (15 mL) canola oil over medium heat. Add beef and cook for about 2-3 minutes. It won't be cooked through. Set aside.
2. Add 1/2 Tbsp (7.5 mL) canola oil to saucepan. Add onions and cook for about 3 minutes. Add beef stock, water, ginger, lemongrass, peppercorns and cinnamon stick, simmer for about 1 hour. (Broth can be prepared up to 2 days in advance and refrigerated, if preferred.)
3. Meanwhile, place rice vermicelli in bowl and cover with very hot water. Place lid on top and allow to sit for about 3 minutes.
4. Prepare garnish plate: Arrange limes, basil, mint, cilantro, jalapeno and small bowl of fish sauce on a plate.
5. Add beef to stock mixture and cook to desired doneness. To serve: Divide rice vermicelli and sprouts evenly in 4 bowls. Pour hot broth-beef mixture over top. Garnish as desired from the garnish plate.
Yield
4 servings
serving size
1 1/2 cups (375 mL)
nutritional analysis
Per Serving
Calories
270
Total Fat
9 g
Saturated Fat
2 g
Cholesterol
35 mg
Carbohydrates
27 g
Fiber
3 g
Sugars
2 g
Protein
20 g
Sodium
115 mg
Potassium
469 mg