Warm Yam, Sundried Tomato and Arugula Salad
Prepare the roasted yams in advance to make quick work of this gorgeous salad. A perfect accompaniment to any grilled or roasted meat.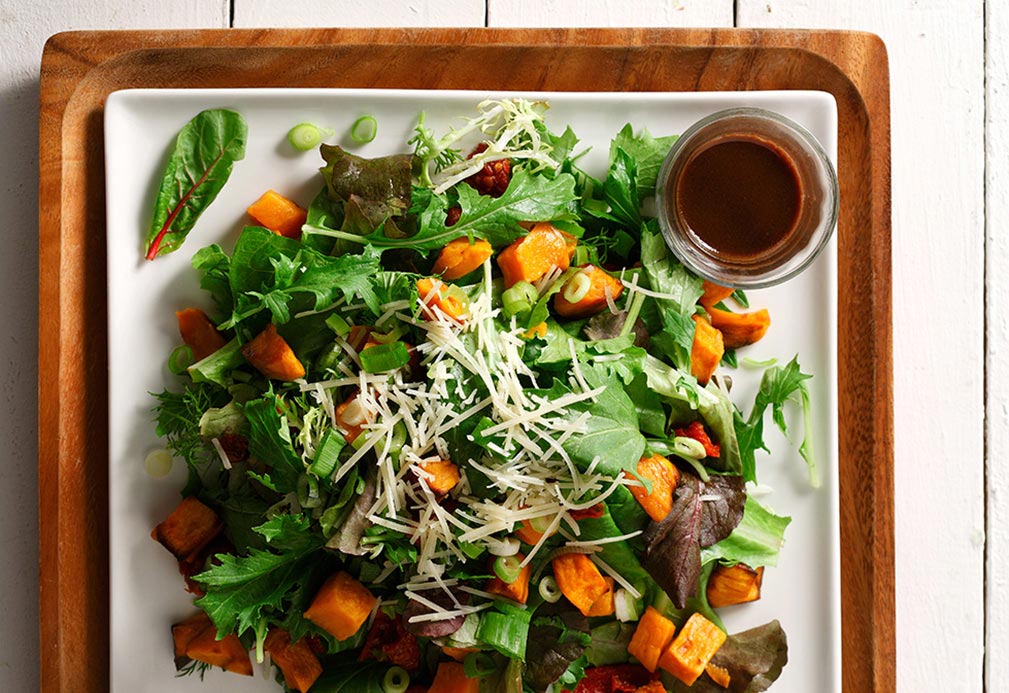 Ingredients
4 cups yams, peeled and cubed  1 L
3 Tbsp canola oil, divided 45 mL
1/2 tsp salt 2 mL
1/2 cup sundried tomatoes, not packed in oil 125 mL
1/2 cup grated Reggiano Parmesan or crumbled Feta cheese 125 mL
4 cups package arugula (or spinach or mixed greens) 1L
4 green onions, chopped
1 Tbsp balsamic vinegar 15 mL
1 tsp Dijon mustard 5 mL 
Instructions
1. Preheat oven to 400°F (200°C). Line baking sheet with parchment paper.
2. In large bowl, toss cubed yams with 1 Tbsp (15 mL) canola oil and salt. Arrange on baking pan and bake for 25 minutes. This can be done up to a day in advance. Keep cooked yams refrigerated until assembling the salad.
3. While yams cook, in medium bowl, cover sundried tomatoes with very hot water and allow to stand for 25 minutes. Drain and chop.
4. In large bowl, combine cooked yams, tomatoes, cheese, arugula and green onion.
5. Prepare dressing by combining the remaining 2 Tbsp (30 mL) canola oil with the balsamic vinegar and Dijon mustard. Drizzle over salad and toss to combine. 
Yield
8 cups
serving size
1 cup
nutritional analysis
Per Serving
Calories
120
Total Fat
7 g
Saturated Fat
1 g
Cholesterol
5 mg
Carbohydrates
8 g
Fiber
4 g
Sugars
3 g
Protein
2 g
Sodium
250 mg