White Bean and Fresh Lemon Hummus
This fresh-tasting hummus can be made a day or two in advance but don't assemble the tomato and cilantro topping until just before serving. Crisp cucumber slices are perfect for dipping. The neutral flavor of canola oil allows the brightness of the other ingredients to shine.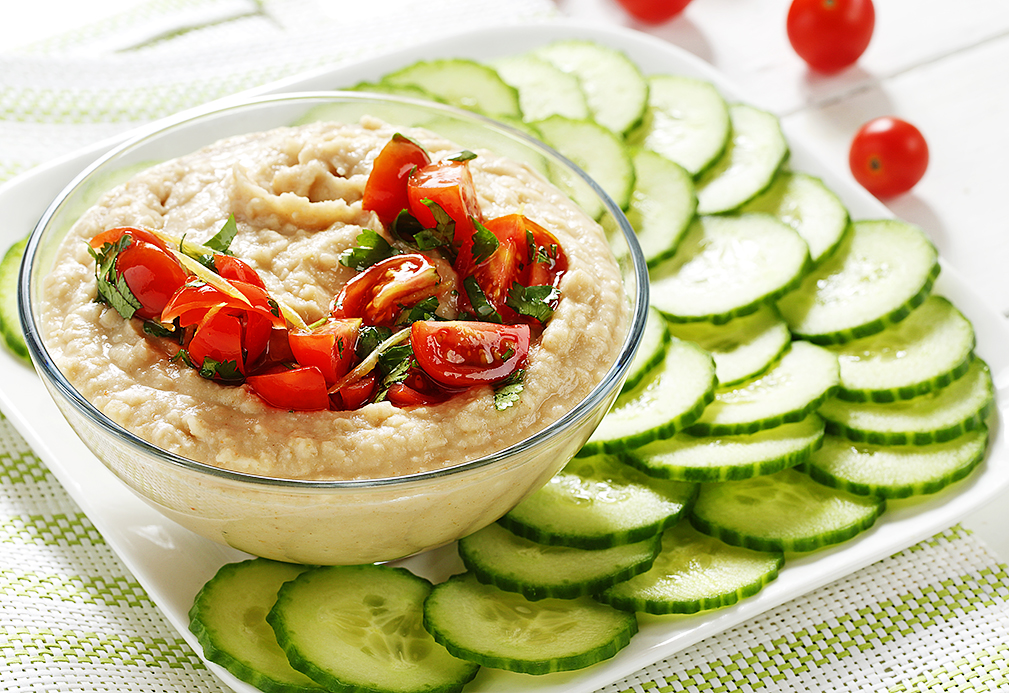 Ingredients
Topping
1/4 cup finely chopped tomatoes 60 mL
3 Tbsp chopped fresh cilantro 45 mL
1 tsp grated lemon zest 5 mL
1 Tbsp lemon juice 15 mL
1 Tbsp canola oil 15 mL
1/8 tsp salt 0.5 mL
Hummus
1 (15-oz. / 425 mL can) no salt added cannellini beans, rinsed and drained
3 Tbsp water 45 mL
1 garlic clove, peeled
1 1/2 Tbsp lemon juice 20 mL
1 Tbsp canola oil 15 mL
1 Tbsp cider vinegar 15 mL
1 tsp ground cumin 5 mL
1/4 tsp salt 1 mL
1/4 tsp cayenne pepper 1 mL
2 cups sliced cucumbers 500 mL
Instructions
1. In a small bowl, combine tomatoes, cilantro, lemon zest, lemon juice, canola oil and salt; set aside.
2. In a blender, combine beans, water, garlic, lemon juice, canola oil, vinegar, cumin, salt and cayenne, secure with lid and puree until smooth.
3. Spoon hummus into a shallow bowl, spoon the tomato mixture over hummus and serve with the cucumber slices.
Yield
6 servings
serving size
1/4 cup (60 mL) hummus plus 1/3 cup (75 mL) cucumber slices
nutritional analysis
per serving
Calories
110
Total Fat
5 g
Saturated Fat
0 g
Cholesterol
0 mg
Carbohydrates
12 g
Fiber
3 g
Sugars
2 g
Protein
4 g
Sodium
170 mg
Potassium
219 mg