Wild Rice and Potato Pancakes with Corn Salsa
First Place Winner of the Be a Star! Be a Winner! with Canola Oil Paralympics Recipe Contest.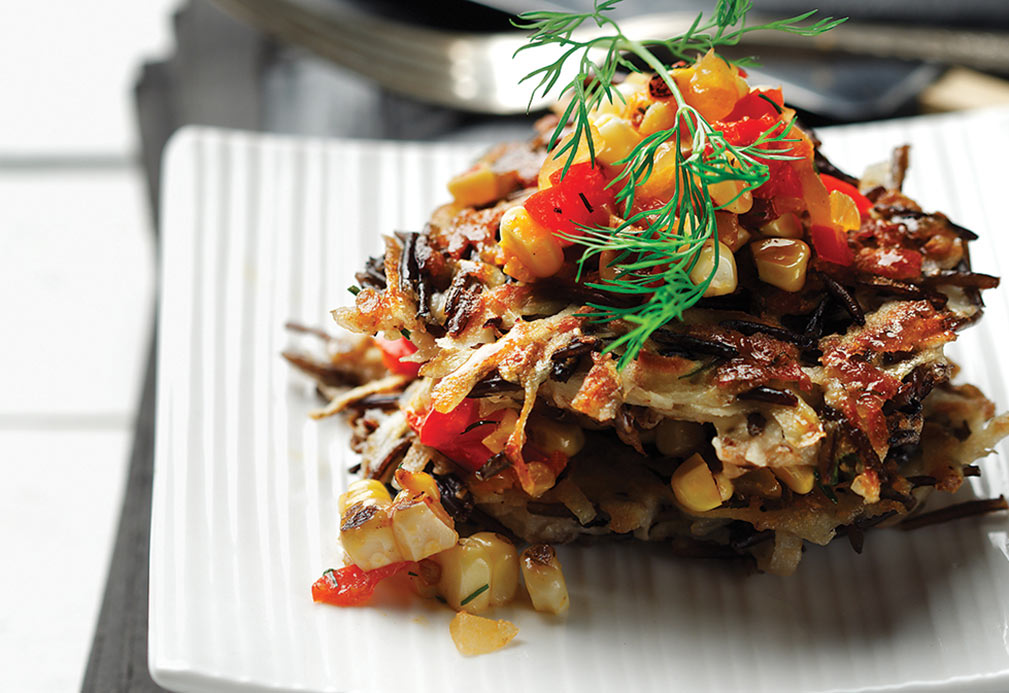 Ingredients
Pancakes
3 cup washed, grated potatoes (preferably Russet) 750 mL    
1 Tbsp lemon juice 15 mL
1 cup cooked wild rice 250 mL
1 egg, slightly beaten
1/2 cup whole wheat flour 125 mL
1 Tbsp prepared mustard 15 mL
2 Tbsp fresh dill 30 mL
2 Tbsp canola oil 30 mL
1/2 tsp salt 2 mL
1 tsp freshly ground pepper 5 mL
3-5 Tbsp canola oil for frying 45-75 mL
Roasted Corn Salsa
2 cobs of corn, husked
2 Tbsp canola oil 30 mL
1 small white onion, finely diced
2 garlic cloves, minced
1 chiles in adobe sauce, chopped
1 small red pepper, finely diced
2 Tbsp fresh dill, finely chopped 30 mL
1/2 tsp salt 2 mL
1/4 pepper 1 mL
Instructions
1. In a large bowl, place grated potatoes. Cover with cold water and add lemon juice, to prevent darkening. Just before making pancakes, drain water from potatoes; place potatoes in a clean, dry dish towel and squeeze out all excess water.
2. Return potatoes to large bowl, and combine with rice, egg, flour, mustard, dill, canola oil and salt. Mix well to combine ingredients.
3. In large non-stick skillet, heat 1 Tbsp (15 mL) of canola oil over medium high heat. Place about 1/4 cup (60mL) of the potato mixture into the hot oil and gently flatten with spatula. Fry for 3-4 minutes until edges are crisp; carefully flip. Fry 3-4 minutes until golden brown. Drain on paper towels and repeat, adding more canola oil as needed, until all the mixture is cooked. Keep warm in oven until ready to serve.
4. To prepare salsa: Preheat grill or set oven to broil. Husk the corn, brush with 2 tsp (10 mL) of the canola oil and broil (or grill) until kernels are slightly charred. Cool then cut kernels off ears.
5. In large non-stick skillet, heat remaining oil over medium heat. Add onions, garlic, chiles in adobe sauce and red pepper. Cook until just softened. Add the corn and cook until vegetables are heated through. Add the dill, salt and pepper and remove from heat. Serve the salsa over the pancakes.
Yield
12 pancakes
serving size
Based on 1 pancake, 4 Tbsp (60 mL) salsa
nutritional analysis
Per Serving
Calories
150
Total Fat
7 g
Saturated Fat
0.5 g
Cholesterol
20 mg
Carbohydrates
20 g
Fiber
3 g
Protein
4 g
Sodium
300 mg