Yucatan Spiced Sauce
Lime, garlic and chilies are ingredients synonymous with Mexico and canola oil allows them to shine in this zesty sauce. It will make grilled meat and fish pop with flavor.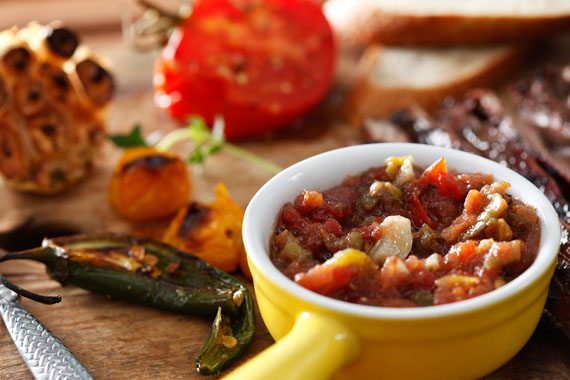 Ingredients
1 tsp cumin seeds 5 mL
1/2 tsp coriander seeds 2 mL
2 Tbsp fresh thyme leaves 30 mL
3 ripe tomatoes, coarsely chopped
3 cloves garlic, minced
1 or 2 jalapeño chile peppers, seeded and finely chopped
1 Tbsp dried oregano 15 mL
3 Tbsp lime juice 45 mL
1 Tbsp brown sugar 15 mL
3 Tbsp canola oil 45 mL
1 tsp salt 5 mL
1/4 tsp freshly ground black pepper 1 mL
Instructions
1. In dry skillet, toast cumin and coriander seeds over medium heat, until aromatic, about 1 minute. Place in electric grinder or mortar and pestle and coarsely grind. In same skillet, add thyme leaves and toast for about 2 minutes, then add to grinder and process to combine.
2. In food processor, place chopped tomatoes and process until finely chopped. Transfer to mixing bowl and add spice mixture, garlic, jalapeño, oregano, lime juice, brown sugar and canola oil. Mix well. 
3. In saucepan, add sauce and bring to boil for 2 minutes or until reduced and thickened. Serve over grilled meat or fish. 
Tips: This recipe calls for the milder jalapeño chile pepper, but use the habanero chile from the Yucatan if you'd like a spicier sauce. You can also substitute half the amount of ground cumin (1/2 tsp or 2 mL) or coriander (1/4 tsp or 1 mL) for their seeds.
Yield
8 servings
serving size
1/3 cup (75 mL)
nutritional analysis
Per Serving
Calories
70
Total Fat
6 g
Saturated Fat
0 g
Cholesterol
0 mg
Carbohydrates
6 g
Fiber
1 g
Protein
1 g
Sodium
320 mg