Zesty Coleslaw with Whole Wheat Tortilla Triangles
A Mexican twist on an old favorite. Beans add protein and flavor!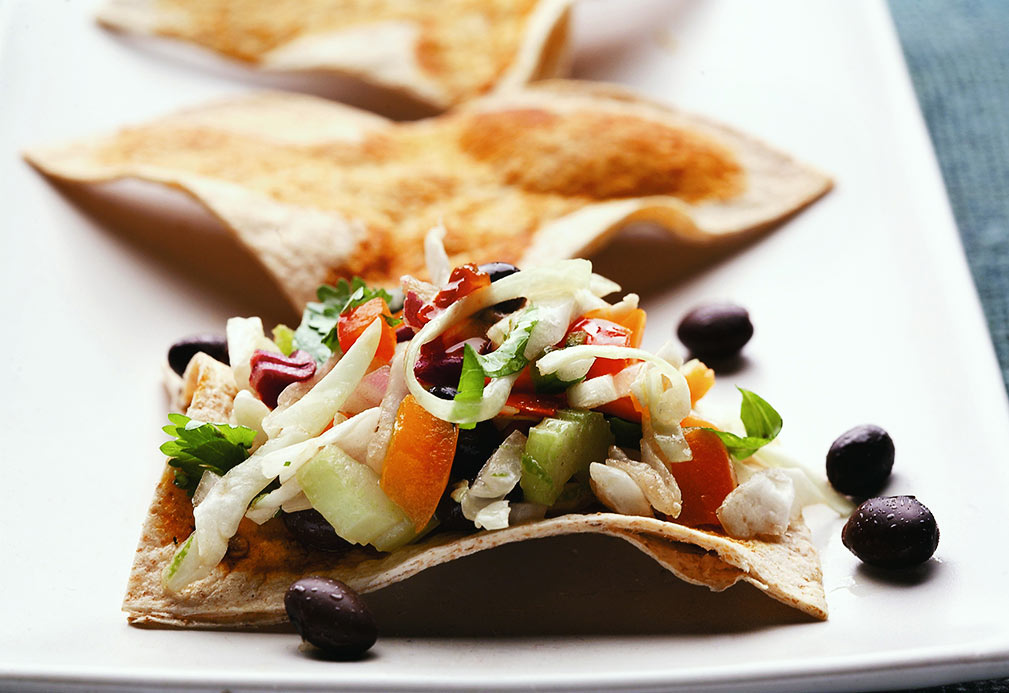 Ingredients
Dressing
1/2 cup canola oil 125 mL
1/4 cup lime juice 60 mL
2 tsp lime zest 10 mL
1 clove garlic, minced
1/4 cup chopped cilantro 60 mL
1 chipotle pepper (in adobe sauce), finely chopped
Assemble
6 whole wheat tortillas, cut into triangles
Salad
1 bag (16 oz/450 g) coleslaw mix
1/2 cup sliced celery 125 mL
1 orange pepper, seeded and diced
1 red pepper, seeded and diced
1 jalapeno pepper, seeded and diced
1/4 cup finely diced red onion 60 mL
1 can (19 oz/540 mL) black beans, drained and rinsed
Instructions
1. To prepare dressing, combine all dressing ingredients. Mix well and set aside.
2. Place tortilla triangles on foil lined baking sheet. Brush tops with adobe sauce from chipotle pepper. Bake at 375 °F (190 °C) until toasted and crispy, about 8-10 minutes. Set aside.
3. Place coleslaw mix in large salad bowl. Add remaining salad ingredients (except for tortilla triangles) as well as dressing and toss ingredients to mix. Serve coleslaw with toasted tortilla triangles.
Yield
12 servings
serving size
1/2 cup (125 mL)
nutritional analysis
Per Serving
Calories
200
Total Fat
10 g
Saturated Fat
1 g
Cholesterol
0 mg
Carbohydrates
26 g
Fiber
7 g
Protein
7 g
Sodium
100 mg