Asian-Style Noodle Salad
Adding fresh ingredients, such as ginger root and garlic, helps add flavor without adding sodium.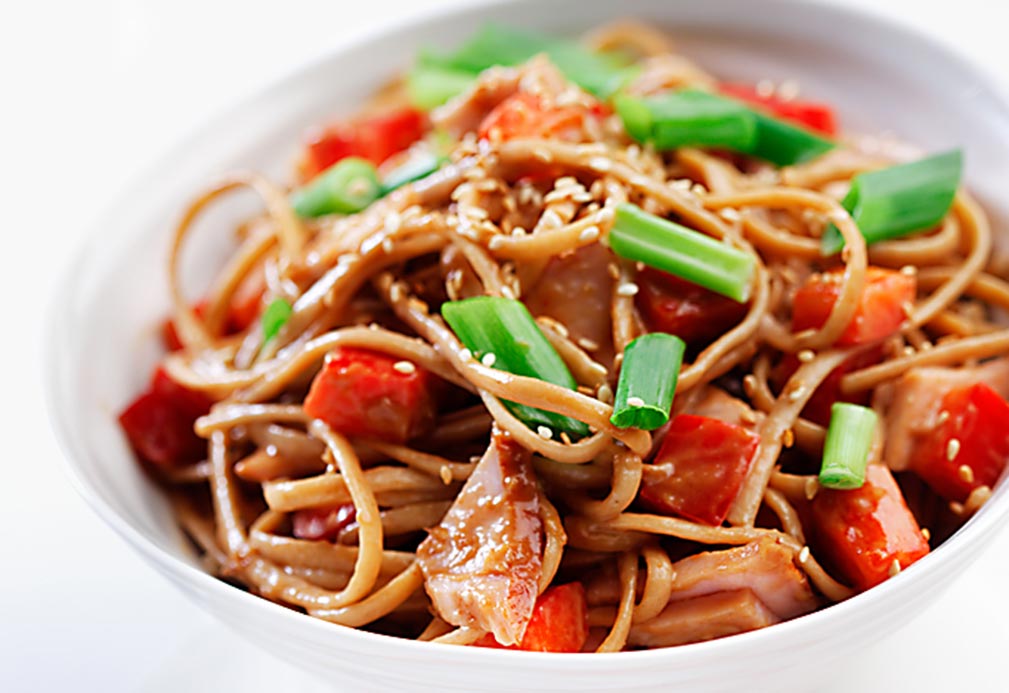 Ingredients
1/2 lb whole-grain linguine 250 g
1/2 cup chunky-style peanut butter 125 mL
1 Tbsp canola oil 15 mL
2 Tbsp sodium-reduced soy sauce 30 mL
1 Tbsp fresh ginger root  15 mL
1/8 tsp cayenne pepper .5 mL
2 cloves garlic, crushed
1/4 to 1/2 cup sodium-reduced chicken stock, warmed 60 to 125 mL
1 medium red pepper, diced into 1 cm pieces
1 cup diced, cooked pork or chicken 250 mL
3 green onions or scallions, thinly sliced on the diagonal
sesame seeds for garnish
Instructions
1. To prepare noodles, bring 8 cups (2 L) of water to a boil in a large pot set over high heat. Stir in noodles and cook until al dente - slightly firm to the bite.
2. Drain the noodles in a colander under cold running water. Transfer the noodles to a medium-sized bowl and reserve until ready to use.
3. To make sauce: Combine peanut butter and canola oil; blend well. Whisk in the soy sauce, gingerroot, cayenne pepper, garlic and stock. Pour sauce over noodles.
4. Add red pepper and meat. Toss. Sprinkle with green onions and sesame seeds. Serve cold or at room temperature.
Yield
4 servings.
serving size
1 cup (250 mL)
nutritional analysis
Per Serving
Calories
470
Total Fat
22 g
Saturated Fat
3 g
Cholesterol
30 mg
Carbohydrates
50 g
Fiber
4 g
Sugars
6 g
Protein
28 g
Sodium
570 mg
Potassium
479 mg