French Toast with Blueberries and Creamy Apricot Sauce
The secret ingredient in this citrus-y French toast is the orange zest. Also, the blueberries contrast beautifully with the peach hues of the toast and sauce.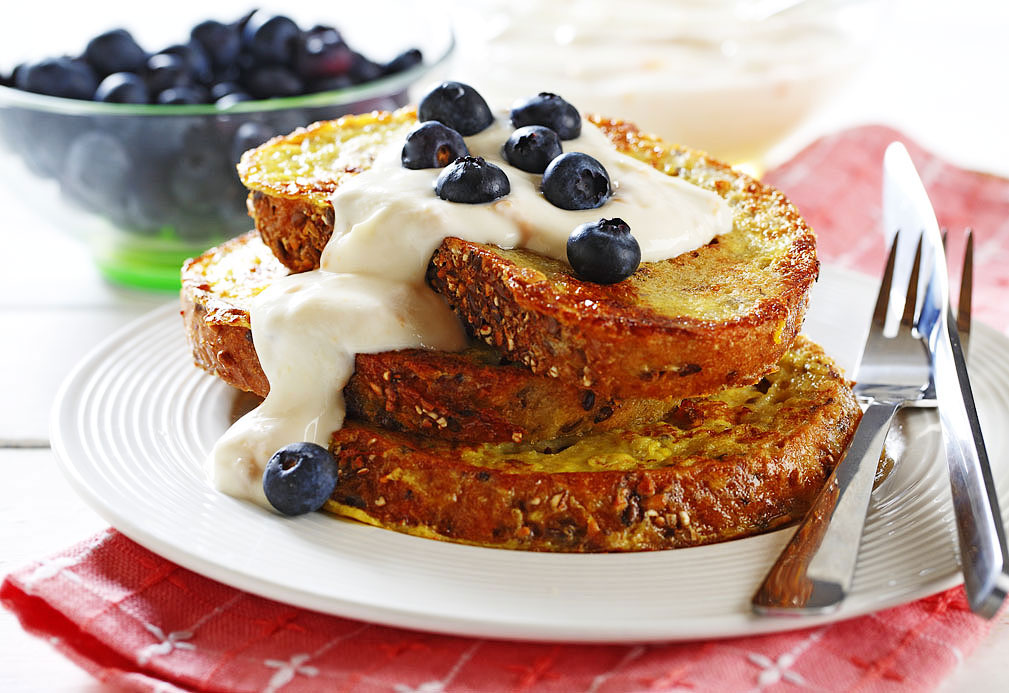 Ingredients
French Toast
2 Tbsp canola oil, divided 30 mL
1 1/4 cups egg substitute 300 mL
1/4 cup fat-free milk 60 mL
1 tsp orange zest 5 mL
1 tsp vanilla extract 5 mL
1/2 of (16 oz/ 500 g) loaf whole wheat Italian bread, cut diagonally into 8 slices, divided
Sauce
1 container (6 oz / 170 mL) fat-free or low-fat vanilla yogurt
3 Tbsp apricot fruit spread 45 mL
1 tsp orange zest 5 mL
1 cup fresh (or thawed frozen) blueberries 250 mL
Instructions
1. Place large nonstick skillet over medium heat until hot. Coat skillet with canola oil cooking spray, add 1 Tbsp (15 mL) canola oil, and tilt skillet to lightly coat bottom.
2. Pour egg substitute, milk, zest and vanilla into a 9 x 13 inch (22 x 33 cm) baking pan. Add four bread slices and turn several times to coat evenly. Place these bread slices in skillet; cook 3 minutes on each side or until golden. Set aside on separate plate and cover to keep warm. Repeat with remaining bread slices and canola oil.
3. Combine yogurt, fruit spread and zest in blender. Secure with lid and puree until well blended.
4. To serve, place two slices of French toast on each of four dinner plates, spoon equal amounts of yogurt mixture on each slice, and top with blueberries.
Tip: Working in two batches keeps the bread from getting crowded in skillet, so it can brown properly and create a slight crust.
Yield
4 servings
serving size
2 slices
nutritional analysis
Per Serving
Calories
330
Total Fat
9 g
Saturated Fat
1 g
Cholesterol
0 mg
Carbohydrates
46 g
Fiber
3 g
Protein
15 g
Sodium
505 mg