Canola Granola
Fill several small snack bags with this tasty granola to have on hand when you need a quick pick-me-up.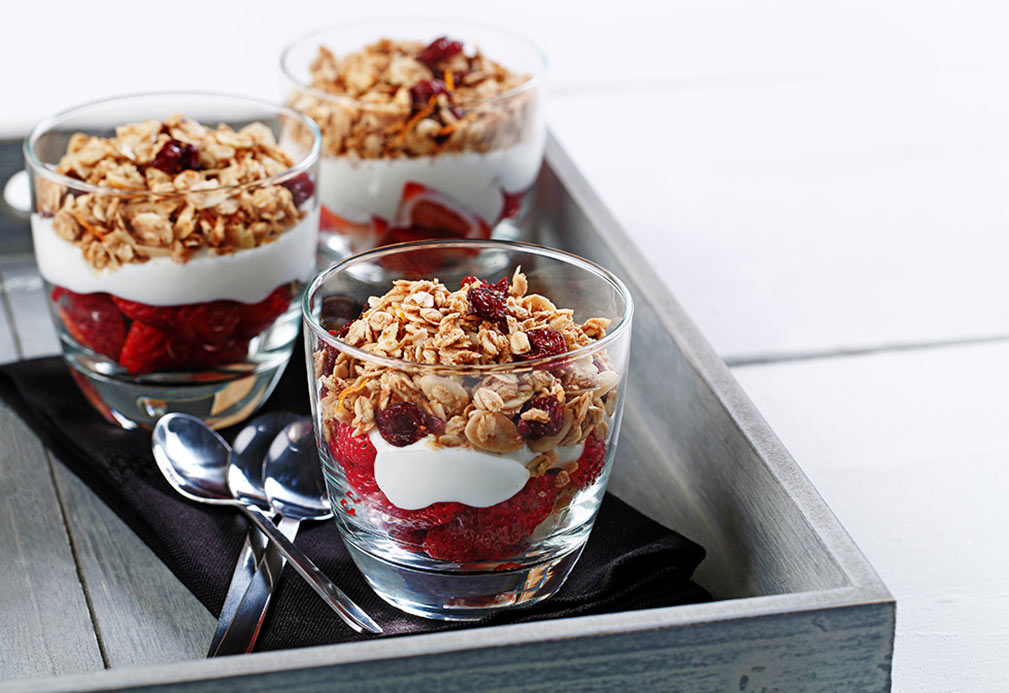 Ingredients
canola oil cooking spray
2 cups rolled oats 500 mL
1/3 cup wheat germ 75 mL
1/2 cup (2 oz/55 g) almond slices 125 mL
2 tsp ground cinnamon 10 mL
1/4 tsp plus 1/8 tsp (.5 mL) salt, divided 1 mL
1/4 cup canola oil 60 mL
1/4 cup maple syrup 60 mL
1 Tbsp fat-free milk 15 mL
2 tsp vanilla extract 10 mL
1 cup dried cherries 250 mL
1 Tbsp orange zest 15 mL
Instructions
1. Preheat oven to 300 °F (150 °C). Coat a baking sheet with canola oil cooking spray.
2. Combine oats, wheat germ, almonds, cinnamon, and 1/4 tsp (1 mL) salt in a large bowl. Add canola oil, syrup, milk, and vanilla, stirring constantly.
3. Spread mixture on a baking sheet in a layer about 1/4-inch thick. Bake 25-30 minutes until browned, stirring two or three times during cooking while breaking up large pieces. Remove from the oven, sprinkle evenly with remaining 1/8 tsp (.5 mL) salt, cherries, and zest. Cool completely. Store in a n airtight container in the refrigerator for up to two weeks
Tip: Serve 1/3 cup (75 mL) granola over 6 oz (170 g) nonfat vanilla yogurt sweetened with a sugar substitute and 1/2 cup (125 mL) quartered strawberries and you'll get 10 grams of protein, 4 grams of fiber, vitamin C, calcium and more!
Yield
12 servings
serving size
1/3 cup (75 mL)
nutritional analysis
Per Serving
Calories
200
Total Fat
8 g
Saturated Fat
1 g
Cholesterol
0 mg
Carbohydrates
29 g
Fiber
3 g
Protein
4 g
Sodium
80 mg