Baked, Spiced Applesauce Doughnuts
Baked doughnuts are so simple and full of flavor, plus light and tender with the use of canola oil. They are a nice change from your regular breakfast muffin. Note this recipe will require a special doughnut pan.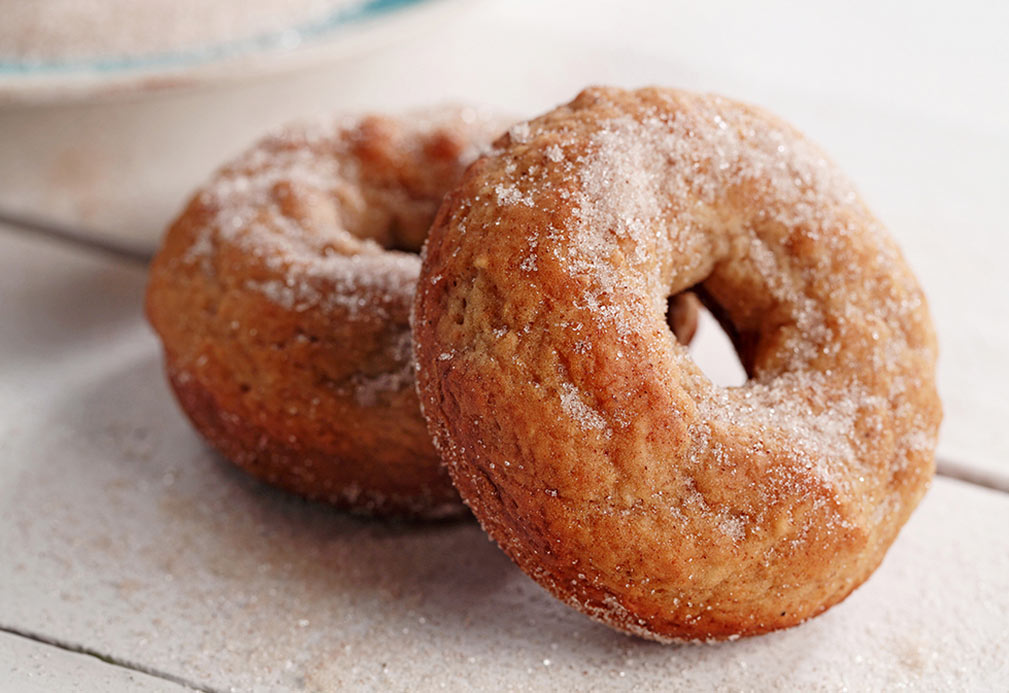 Ingredients
Doughnut
canola oil cooking spray
2 1/3 cups cake flour 575 mL
2/3 cup granulated sugar 75 mL
1 tsp baking powder 5 mL
1/2 tsp baking soda 2 mL
1/2 tsp salt 2 mL
1 tsp ground cinnamon 5 mL
1/2 tsp nutmeg 2 mL
1/4 tsp ground cloves 1 mL
1 cup buttermilk 250 mL
1/4 cup unsweetened applesauce 60 mL
1 egg
2 Tbsp canola oil 30 mL
1 tsp vanilla extract 5 mL
Topping
1/4 cup granulated sugar 60 mL
1 tsp ground cinnamon 5 mL
Instructions
1. Preheat oven to 400 °F (200 °C). Spray two baking doughnut pans with canola oil cooking spray.
2. In bowl, whisk flour, sugar, baking powder, baking soda, salt, cinnamon, nutmeg and cloves.
3. In another bowl, whisk buttermilk, applesauce, egg, canola oil and extract. Add to dry mixture and mix lightly. (It's fine if it looks lumpy.)
4. Place batter into resealable plastic bag. Cut off one corner and pipe mixture into prepared doughnut pans.
5. Bake until firm to touch, about 15 to 20 minutes.
6. In small bowl, blend together topping ingredients. While hot, roll doughnuts in cinnamon-sugar mixture. Serve warm.
Yield
12 doughnuts
serving size
1 doughnut
nutritional analysis
Per Serving
Calories
200
Total Fat
3.5 g
Saturated Fat
0 g
Cholesterol
15 mg
Carbohydrates
38 g
Fiber
1 g
Sugars
17 g
Protein
3 g
Sodium
210 mg
Potassium
41 mg