Barley Salad with Spinach and Strawberries
Sweet, tart strawberries make a delicious addition to a summer salad. If you're taking this to a party, add nuts just before serving to keep them crunchy.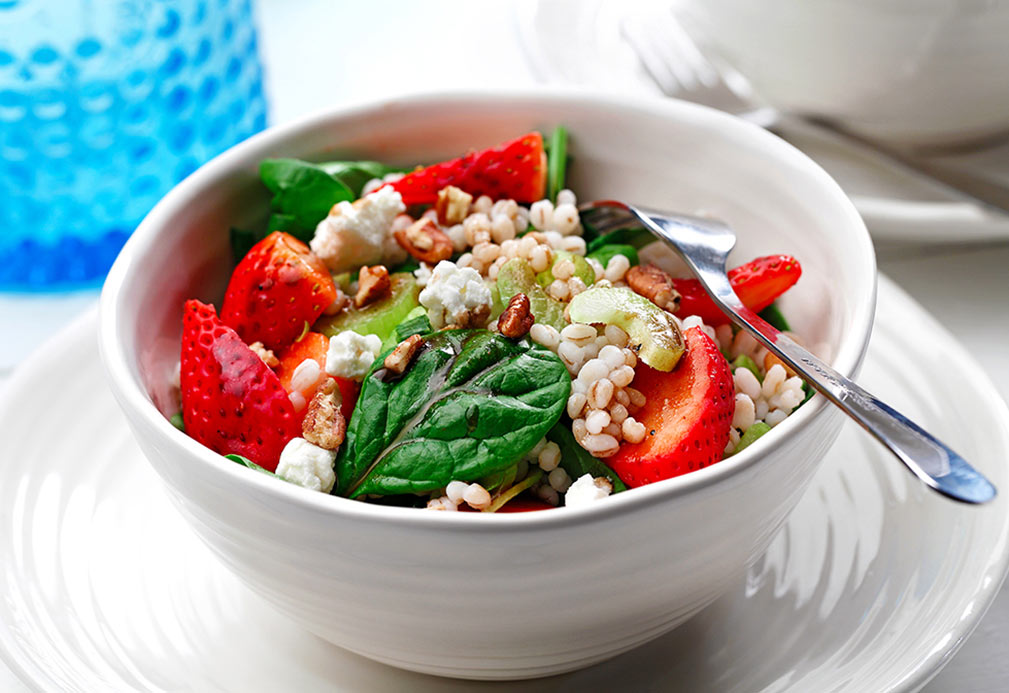 Ingredients
Barley Salad
1 cup dry pearl or pot barley 250 mL
4 cups baby spinach, roughly chopped 1 L
1 celery stalk, finely chopped
2 green onions, finely chopped
2 cups strawberries, hulled and halved 500 mL
1/2 cup soft goat cheese 125 mL 
1/3 cup chopped pecans, toasted 75 mL
Vinaigrette:
1/4 cup canola oil 60 mL
3 Tbsp balsamic vinegar 45 mL
2 Tbsp maple syrup 30 mL
1 tsp grainy mustard 5 mL
1/4 tsp ground black pepper 1 mL 
Instructions
1. Bring large saucepan of water to a boil, add barley and cook for 40-45 minutes or until tender. Then drain well, running under cool water to stop grains from cooking, and transfer to wide, shallow serving bowl. Set aside to cool completely. 
2. Add spinach, celery and onions to cooled barley and toss gently to combine. Sprinkle with strawberries, goat cheese and pecans. 
3. To make vinaigrette: In medium bowl or small jar, whisk or shake together all ingredients. Pour over salad and gently toss to combine.
4. Serve immediately.
Yield
6 Servings
serving size
1 cup (250 mL)
nutritional analysis
Per Serving
Calories
310
Total Fat
16 g
Saturated Fat
2.5 g
Cholesterol
5 mg
Carbohydrates
38 g
Fiber
7 g
Protein
6 g
Sodium
70 mg