Exotic Mexican Avocado and Tangerine Salad
Save the dishes and serve this exotic salad in the hollowed out avocado shell.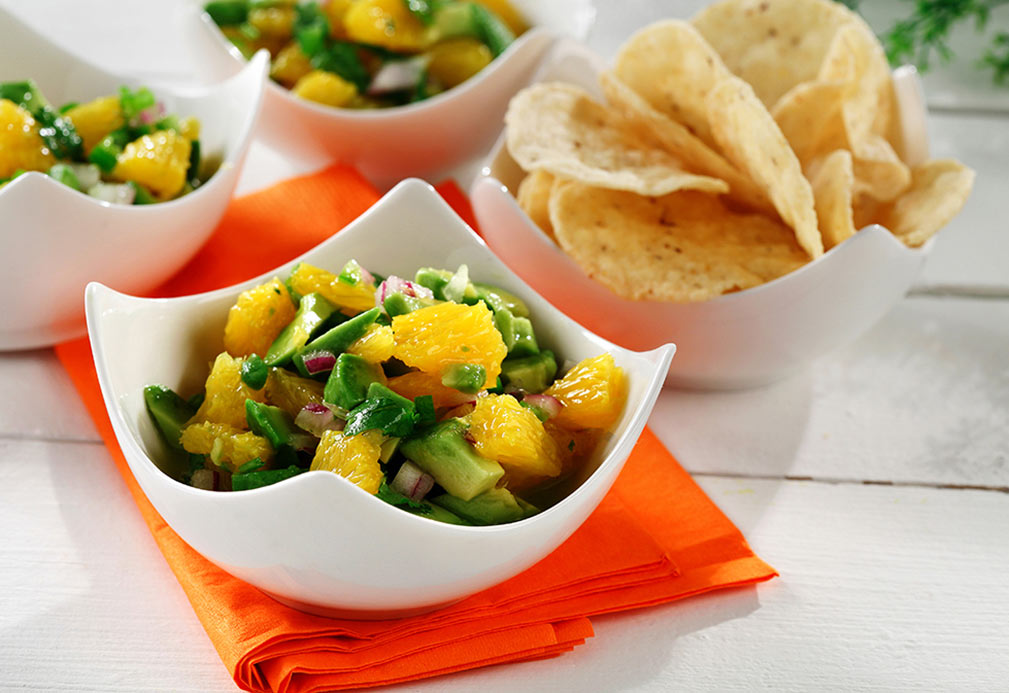 Ingredients
1 cup tangerine juice, freshly squeezed 250 mL
1/4 cup canola oil 60 mL
1/3 cup cilantro leaves 75 mL
1/4 cup red onion, finely diced 60 mL
1 jalapeno chile, seeded, finely diced
1/2 tsp salt 2 mL
2 ripe but firm avocados, peeled, cut into large cubes
1 ripe tangerine, peeled, cut into large pieces
1 Tbsp cilantro leaves 15 mL
Tortilla chips
Instructions
1. In bowl, mix together tangerine juice, canola oil, cilantro, onion, jalapeno and salt. Season to taste.
2. Add avocado and tangerine. Mix carefully to avoid damaging the avocado. Refrigerate 15 minutes. Sprinkle with fresh cilantro leaves. Serve immediately with tortilla chips.
Tips: Avocado turns black very quickly so avoid preparing it in advance. If jalapeno is too spicy just cut it in half, marinate and then discard.
Yield
4 servings
serving size
1/2 cup (125 mL)
nutritional analysis
Per Serving
Calories
330
Total Fat
29 g
Saturated Fat
3 g
Cholesterol
0 mg
Carbohydrates
21 g
Fiber
7 g
Sugars
11 g
Protein
2 g
Sodium
340 mg
Potassium
597 mg