Marmalade Glazed Pork Tenderloin
Try this for a weeknight supper - buy the tenderloin on the way home from work one night, marinade overnight, and bake or grill it the next day.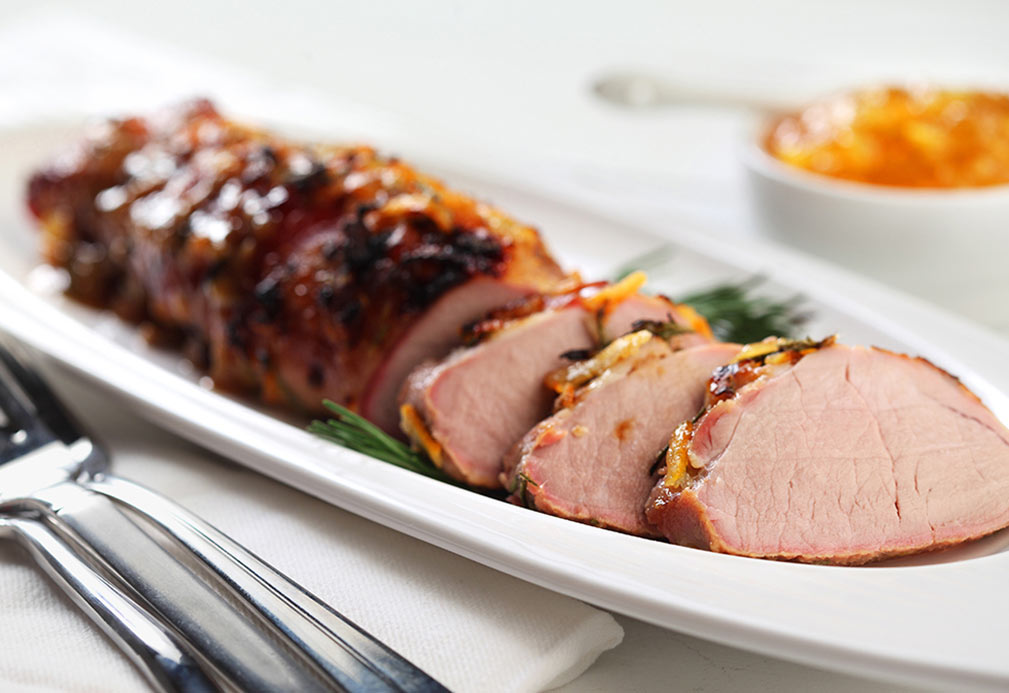 Ingredients
3/4 cup orange marmalade 175 mL
2 Tbsp Dijon-style mustard 30 mL
1 Tbsp canola oil 15 mL
3 cloves garlic, minced
2 Tbsp finely chopped fresh rosemary 30 mL
2 pork tenderloins (each about 10oz/300g)
Instructions
1. Prepare the marinade in a small microwaveable bowl, microwave marmalade, mustard and canola oil, uncovered, on Medium (50%) power for 1 to 2 minutes, or until marmalade is melted. Stir in garlic and rosemary.
2. In a resealable plastic freezer bag set in bowl, combine marinade and pork. Refrigerate for at least 4 hours or for up to 2 days, turning occasionally. Drain and discard marinade.
3. Preheat oven to 400 °F (200 °C). Place pork tenderloins in prepared baking pan so they are not touching. Bake in preheated oven for 25 to 30 minutes, or until meat thermometer reaches 160 °F (70 °C) or just a hint of pink remains inside. Let stand for 5 minutes, covered lightly with foil, before serving. Slice across the grain.
Tips: To prevent the thin tip of pork tenderloin from drying, turn it under before baking. Tenderloin can be frozen in the marinade for up to 2 months, thawed in the refrigerator overnight and then grilled.
Variations: For a sweet ginger flavor, add 1 Tbsp (15 mL) grated fresh ginger root with the garlic and rosemary. Substitute grilling beef steak, pork loin chops or skinless boneless chicken breasts for the tenderloin.
Yield
4 servings
serving size
5 oz (140 g) per serving
nutritional analysis
Calories
180
Total Fat
3.5 g
Saturated Fat
1 g
Cholesterol
90 mg
Carbohydrates
6 g
Fiber
0 g
Sugars
5 g
Protein
30 g
Sodium
100 mg
Potassium
568 mg