Cilantro and Black Bean Farro Salad
Farro is a type of wheat and commonly grown in Italy and the Middle East. It has a nutty flavor with a slightly crunchy texture. Although it's a distant cousin to the wheat berry, it cooks in a fraction of the time. Whether you serve it on a bed of spring greens or wrapped in Boston Bibb lettuce, it's interesting to eat, and makes a fun conversation ingredient!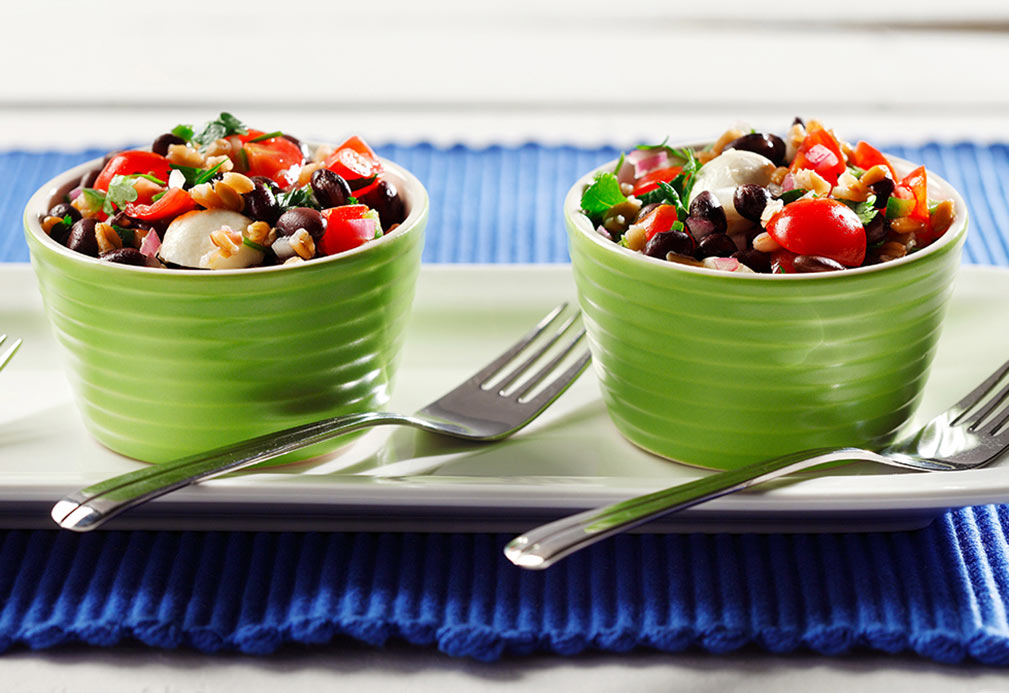 Ingredients
2 cups water 500 mL
1/2 cup uncooked Farro or wheat berries 125 mL
1 1/4 cups grape tomatoes, quartered 300 mL
1 cup chopped fresh cilantro 250 mL
4 oz  / 125 g fresh mozzarella petite balls or fresh mozzarella, cut into 1/2-inch (1 cm) cubes
1/2 cup finely chopped red onion 125 mL
1 medium jalapeño , seeded, (if desired) and finely chopped
2 medium garlic cloves, minced
3 Tbsp canola oil 45 mL
1 tsp grated lime zest 5 mL
2 Tbsp fresh lime juice 30 mL
1 Tbsp cider vinegar 15 mL
1/2 tsp salt 2 mL
1 can (15-oz/426 mL) no-salt-added black beans, rinsed and drained
Instructions
1. In a medium saucepan, bring water to a boil over high heat. Add farro, reduce heat and simmer, uncovered, 15-18 minutes or until al dente. Drain in fine mesh sieve and run under cold water to cool completely. Shake off excess liquid.
2. Meanwhile, in a large bowl, combine tomatoes, cilantro, mozzarella, onion, jalapeno, garlic, canola oil, lime zest and juice, vinegar, and salt. Stir in farro and beans. Toss gently, until just blended. Serve immediately for peak flavors and texture.
Tip: For peak color and texture, do not add the black beans until time of serving. The acidity in the other ingredients will cause the beans to "muddle" slightly onto the other ingredients if allowed to stand for longer than 30 minutes.
Yield
10 servings
serving size
1/2 cup (125 mL)
nutritional analysis
Per Serving
Calories
140
Total Fat
7 g
Saturated Fat
2 g
Cholesterol
10 mg
Carbohydrates
15 g
Fiber
4 g
Sugars
1 g
Protein
6 g
Sodium
140 mg