Black-Eyed Peas with Jalapeno and Tomatoes
Blacked-eyed peas are generally cooked with bacon, but you won't miss it in this recipe because of the seasonings. It's "thyme" to enjoy these peas without bacon.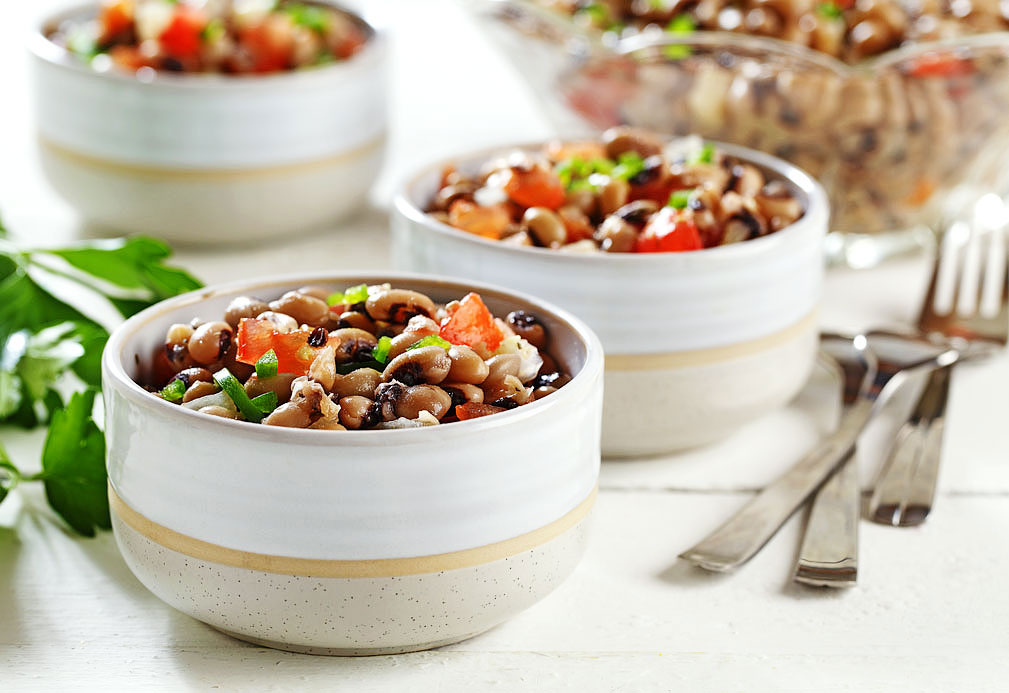 Ingredients
1 Tbsp canola oil 15 mL
1 cup diced onions 250 mL
1 medium jalapeno, cut into thinly sliced rounds (with seeds)
1 cup water 250 mL
1 pkg (10 oz/300g) frozen black-eyed peas
1 Tbsp cider vinegar 15 mL
1/4 tsp dried thyme leaves 1 mL
1/2 cup diced tomato 125 mL
1/2 tsp salt 2 mL
Instructions
1. Heat canola oil in large saucepan over medium-high heat. Immediately reduce heat to medium, add onions and jalapeno, and cook 3-4 minutes or until beginning to turn golden. Add water; bring to boil over high heat. Add peas, 1 tsp (5 mL) vinegar, and thyme. Return to boil.
2. Reduce heat and simmer, covered, 25 minutes or until peas are tender. Remove from heat and add tomato, remaining 2 tsp (10 mL) vinegar, and salt.
Fresh tip: Wearing gloves when handling jalapenos or other hot peppers protects your hands and eyes from coming into contact with pepper substances that can cause a burning sensation.
Yield
4 servings
serving size
1/2 cup (125 mL)
nutritional analysis
Per Serving
Calories
155
Total Fat
4 g
Saturated Fat
0.4 g
Cholesterol
0 mg
Carbohydrates
24 g
Fiber
5 g
Protein
7 g
Sodium
305 mg