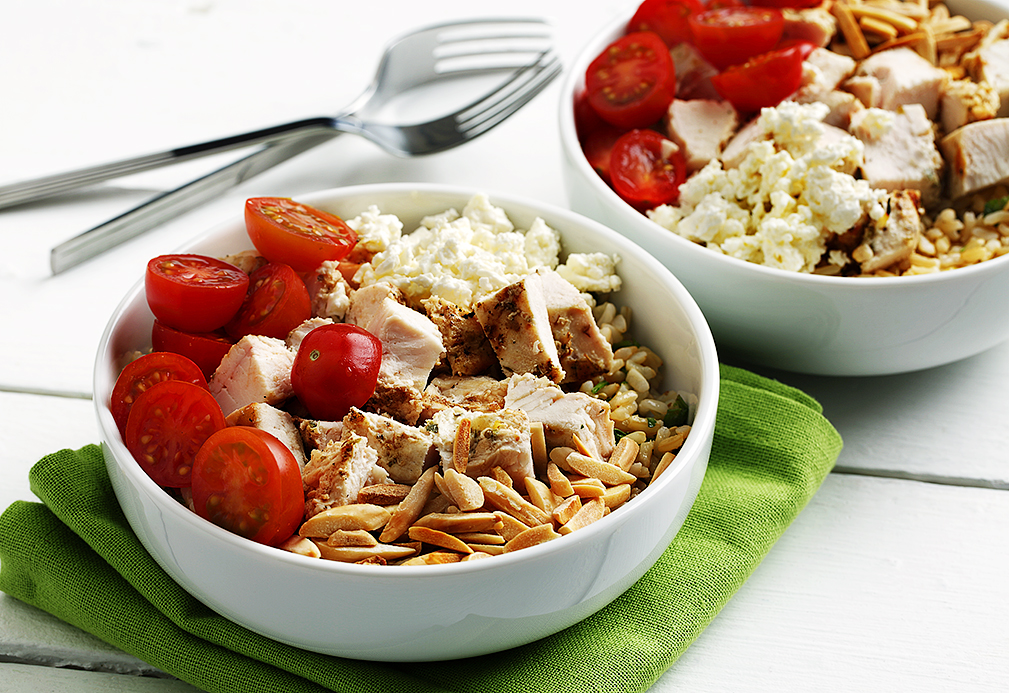 Ingredients
Reserved Mint-Parsley Lemon Chicken and topping*
2 cups cooked brown rice 500 mL
1 cup grape tomatoes, halved 250 mL
1/2 cup slivered almonds, toasted** 125 mL
1/4 cup crumbled reduced-fat feta 60 mL
1 lemon, halved
1/4 tsp salt 1 mL
Instructions
1. Chop chicken.
2. Cook rice according to package directions and place in a medium bowl with the reserved topping*; toss well.
3. Spoon rice mixture into the bottom of 4 soup bowls; spoon equal amounts of the chicken into the center of each bowl. Arrange the tomatoes, almonds, and feta in sections around the chicken. Squeeze the lemon juice evenly over all and sprinkle with salt.
*Note: Reserved from preparing the Mint-Parsley Lemon Chicken recipe.
**To toast almonds, heat a large skillet over medium-high heat. Cook almonds 2–3 minutes or until beginning to lightly brown, stirring frequently. Remove from skillet immediately.
Yield
4 servings
serving size
1/2 cup (125 mL) rice, 3 oz (90 g) cooked chicken, and 1/2 cup (125 mL) topping
nutritional analysis
Per serving
Calories
460
Total Fat
20 g
Saturated Fat
3 g
Cholesterol
90 mg
Carbohydrates
36 g
Fiber
4 g
Sugars
2 g
Protein
36 g
Sodium
530 mg
Potassium
641 mg