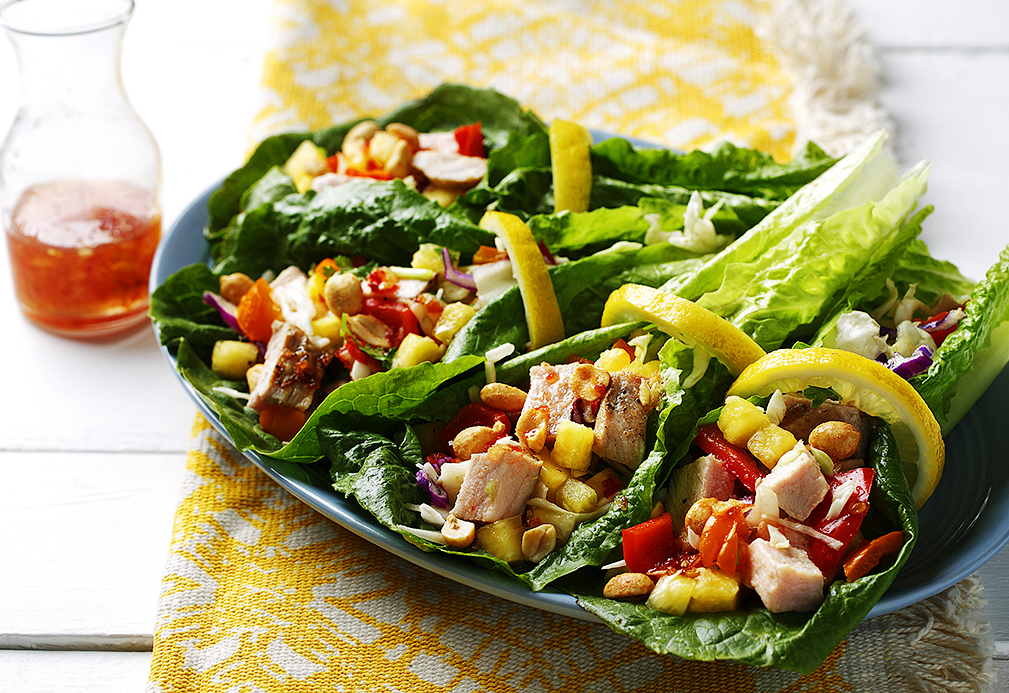 Ingredients
Reserved Pork & Petite Peppers with Fresh Ginger Hot Sauce plus reserved lime halves*
2 cups coleslaw mix 500 mL
1 cup fresh or frozen thawed pineapple chunks, diced 250 mL
1/2 cup chopped fresh cilantro 125 mL
1 Tbsp canola oil 15 mL
1 Tbsp cider vinegar 15 mL
1/8–1/4 tsp dried pepper flakes .5–1 mL
1/4 tsp salt 1 mL
12 Romaine OR 12 large Bibb lettuce leaves
1/2 cup unsalted dry roasted peanuts 125 mL
Instructions
1. Chop pork and set aside.
2. Chop peppers and place in a bowl with coleslaw, pineapple, and cilantro.
3. In a small bowl, whisk together reserved sauce* with canola oil, vinegar, pepper flakes, and salt.
4. Line lettuce leaves with equal amounts of the coleslaw mixture and chopped pork, squeeze the lime juice on top, drizzle with sauce, and sprinkle with the peanuts.
Yield
Serves 4
serving size
3 lettuce leaves
nutritional analysis
Per serving
Calories
430
Total Fat
26 g
Saturated Fat
4 g
Cholesterol
55 mg
Carbohydrates
21 g
Fiber
5 g
Sugars
13 g
Protein
29 g
Sodium
250 mg
Potassium
556 mg