Churros with Spiked Chili Cocoa Sugar
Treat yourself to these delicious homemade Spanish doughnuts.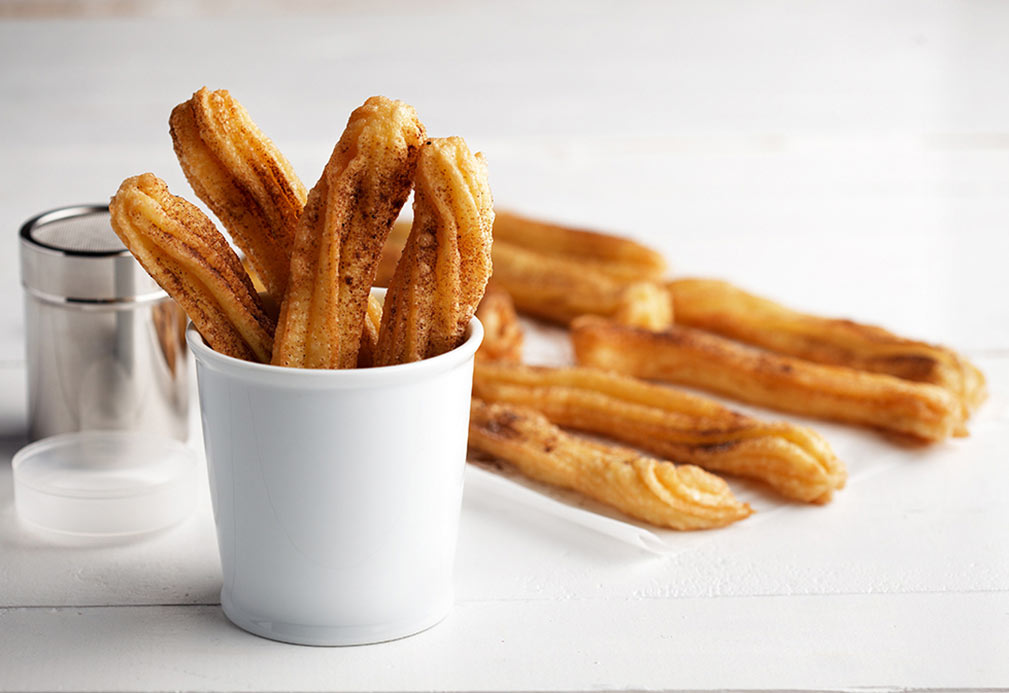 Ingredients
Churro
1 cup water 250 mL
1/2 cup non-hydrogenated canola margarine 125 mL
1/4 tsp salt 1 mL
1 cup all-purpose flour 250 mL
3 eggs
2 to 4 cups canola oil 500 mL to 1 L
Chile-Spiked Cocoa Sugar 
1/4 cup powdered or icing sugar 60 mL
2 Tbsp cocoa powder 30 mL
1 tsp chili powder 5 mL
Dash of salt
Instructions
1. In large saucepan, heat water and canola margarine over high heat, until mixture comes to full rolling boil. Immediately stir in salt and flour. Mix vigorously over low heat until mixture forms ball, about 1 minute. Remove from heat. 
2. Beat in eggs one at a time and continue to beat until mixture is smooth. Meanwhile, heat canola oil in deep fryer to 350 to 375 ºF (180 to 190 ºC). 
3. Spoon mixture into cake decorator's tube, fitted with large star tip. Squeeze 4-5 inch strips of dough into hot canola oil. Fry 3 or 4 strips at a time, until golden brown in color. Turn during cooking time, about 2 minutes on each side. 
5. Drain on paper towels and immediately shake chili-spiked cocoa sugar mixture over top.
6. To make cocoa sugar: sift all ingredients to together. Place in shaker.
Yield
about 14 churros
serving size
1 Churro, depending on size. Cocoa sugar: 1/3 cup (75 mL).
nutritional analysis
Per Serving
Calories
230
Total Fat
21 g
Saturated Fat
2.5 g
Cholesterol
45 mg
Carbohydrates
9 g
Fiber
0 g
Protein
2 g
Sodium
250 mg