Citrus Chicken with Tarragon and Mustard
Here is a quick and easy supper with the fresh taste of lemon, earthiness of tarragon and zing of mustard. Canola oil blends all of the flavors together beautifully.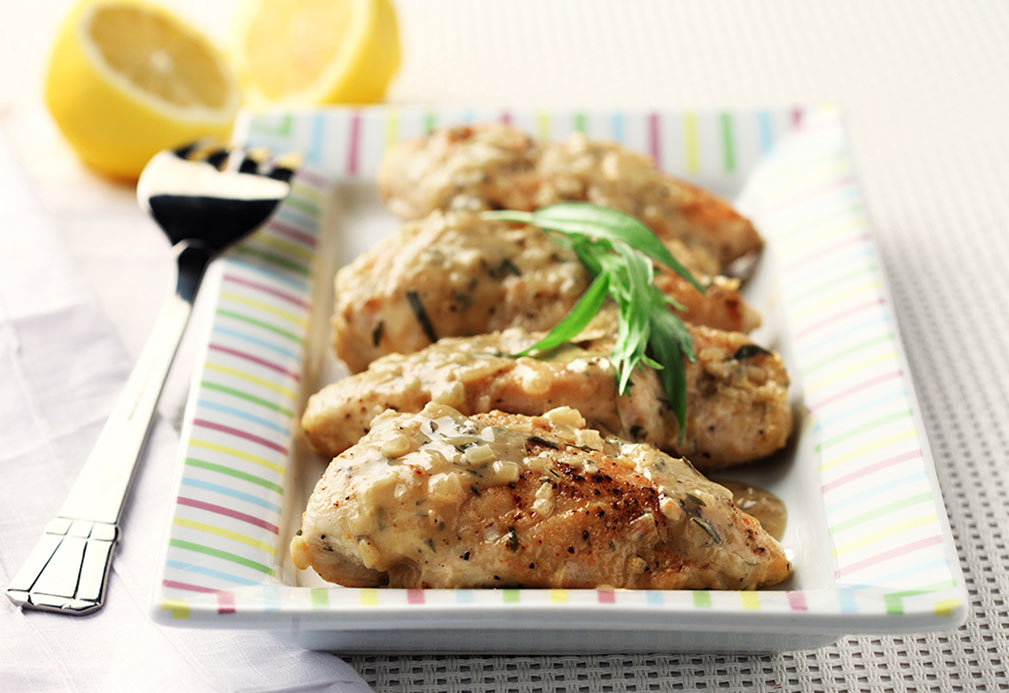 Ingredients
1/4 cup all-purpose flour 60 mL
1/2 tsp lemon pepper 2 mL
1/2 tsp dry mustard 2 mL
6 boneless skinless chicken breasts (4 oz / 125 g each)
2 Tbsp canola oil, divided 30 mL
1/4 cup finely diced shallots 60 mL
2 Tbsp Dijon mustard 30 mL
1 tsp dried tarragon 5 mL
1/4 cup freshly squeezed lemon juice 60 mL (or 1 Tbsp / 15 mL concentrated lemon juice plus 2 Tbsp / 30 mL water)
1 Tbsp honey 15 mL 
Instructions
1. In shallow bowl, combine flour, lemon pepper and dry mustard. Dip each chicken breast in flour mixture, shake to removed excess and set on clean plate. 
2. In large skillet, heat 2 tsp (10 mL) canola oil over medium-high heat. When canola oil is hot, add three chicken breasts and cook for 2-3 minutes or until lightly browned. Turn over and cook additional 2-3 minutes until lightly browned. Remove to clean plate. Add remaining 1 tsp (5 mL) canola oil and repeat with remaining three chicken breasts. 
3. To same saucepan, add 1 Tbsp (15 mL) canola oil and heat over medium heat. Add shallots and cook 1-2 minutes until translucent; do not brown. Add Dijon mustard, tarragon, lemon juice and honey and stir to combine. Return all chicken breasts to saucepan, spooning sauce over chicken and cook 4-6 minutes or until chicken has reached internal temperature of 170 ºF (77 ºC) on instant-read thermometer.
Yield
6 servings
serving size
1 chicken breast
nutritional analysis
Per Serving
Calories
200
Total Fat
7 g
Saturated Fat
1 g
Cholesterol
65 mg
Carbohydrates
10 g
Fiber
0 g
Protein
24 g
Sodium
200 mg