Confetti Pie with Cornmeal Crust
Don't be daunted by the long list of ingredients - this dish goes together in a flash. And, using canola oil means that this high fiber meal is made with healthy fats.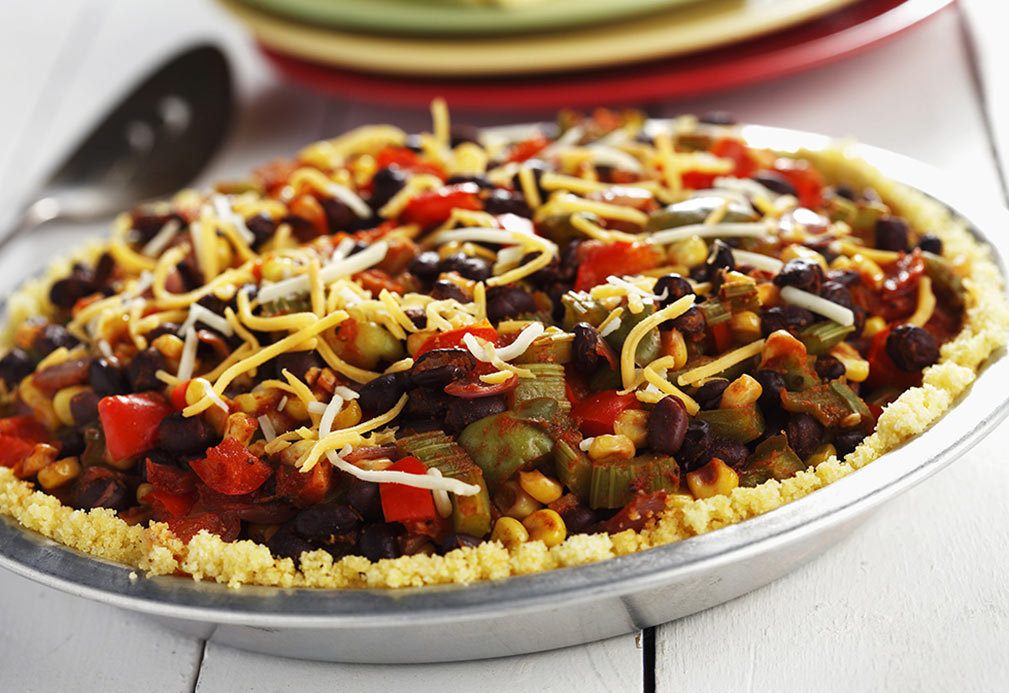 Ingredients
Corn Meal Crust:
1 cup cornmeal 250 mL
2 Tbsp canola oil 30 mL
1/4 cup reduced-sodium canned chicken broth 60 mL
Pie Filling:
2 Tbsp canola oil 30 mL
1 cup coarsley chopped red onion 250 mL
1/2 green bell pepper, coarsely chopped
1/2 red bell pepper, coarsley chopped
1 rib celery, coarsely chopped
4 cloves garlic, finely chopped
1 15 oz can black beans, drained and rinsed 425g
1 cup frozen corn kernels 250 mL
1-8 oz can tomato sauce 227g
1/4 reduced sodium chicken broth* 60 mL
2 tsp chili powder 10 mL
1 Tbsp finely chopped fresh oregano or 1 tsp (5 mL) dried oregano 15 mL
1/2 tsp ground cumin 2 mL
1/2 tsp pepper, or to taste 2 mL
1/4 tsp Tabasco sauce, or to taste 1 mL
1 cup Mexican-style shredded cheese 250 mL
*Note: Chicken broth is available in aseptic boxes, perfect for this recipe calling for less than 14.5 ounce can. For vegetarians, instead of chicken broth substitute vegetable stock, which can easily be made using stock concentrate, cubes or powder.
Instructions
1. Preheat the oven to 350 °F (180 °C).
2. To make the crust, use a fork to combine the cornmeal and oil in a small bowl. Add the chicken broth and stir until evenly combined. Use the back of a spoon to press the mixture into the bottom and sides of a 9 inch (23 cm) pie plate. Set aside.
3. To make the pie filling, heat the canola oil in a large saute pan over medium-high heat. Add the onion, bell peppers, celery, and garlic; cook, stirring occasionally, for 8 minutes or until the vegetables are almost tender. Stir in the remaining ingredients, except the cheese. Taste and adjust the pepper and Tabasco sauce.
4. Spread 1/2 cup (125 mL) of the cheese over the crust. Pour in the pie filling and spread evenly. Bake for 25 minutes or until the filling appears to be firm. Sprinkle with the remaining 1/2 cup (125 mL) cheese. Continue to bake for 10 minutes or until the cheese is melted. Let stand for 5 minutes before cutting into 6 wedges.
Yield
6 servings
serving size
1 wedge
nutritional analysis
Per Serving
Calories
350
Total Fat
16 g
Saturated Fat
4.5 g
Cholesterol
15 mg
Carbohydrates
41 g
Fiber
8 g
Protein
12 g
Sodium
580 mg