Crisp Salad with Chayote and Orange
Chayote fruit are grown in warmer climates such as Mexico. They are mild in flavor with a crisp texture. Canola oil lets the vinaigrette''s lively taste come to the forefront.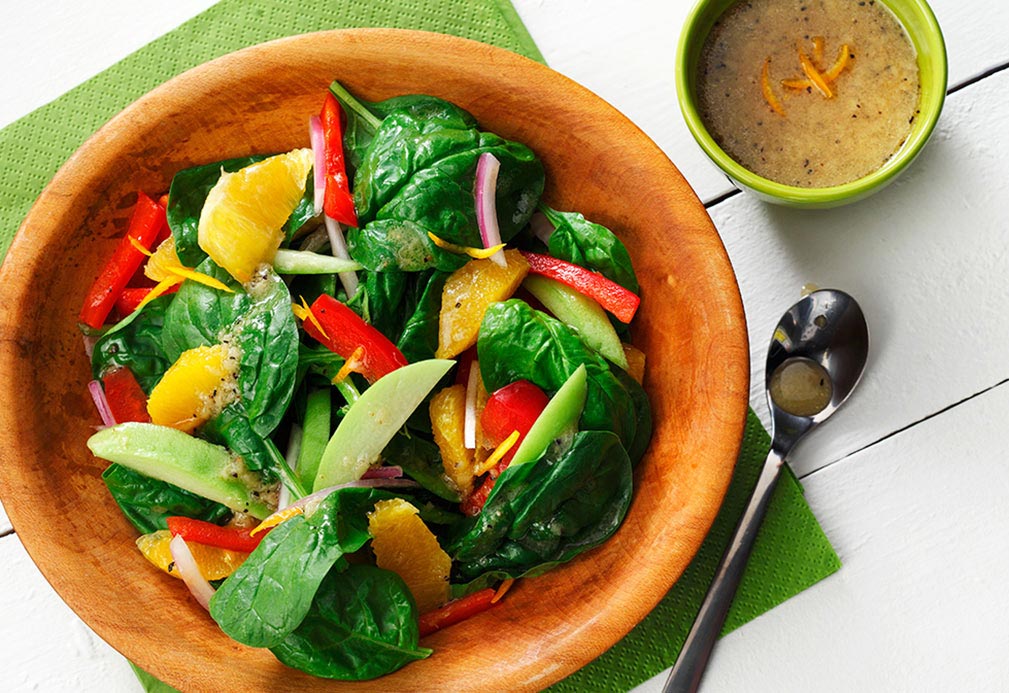 Ingredients
Vinaigrette 
1 1/2 Tbsp canola oil 20 mL
1 Tbsp orange juice 15 mL
1 Tbsp white wine vinegar 15 mL
1 tsp sesame oil 5 mL
1 Tbsp honey15 mL
1 Tbsp orange zest 15 mL
1 1/2 Tbsp finely grated fresh ginger 20 mL
1 tsp Dijon mustard 5 mL
1/4 tsp ground pepper 1 mL  
Salad
1 large chayote, unpeeled, cut into thin strips*
2 cups spinach 500 mL
1 red bell pepper, seeds removed, cut into strips
2 oranges, peeled and cut into segments
1/4 small red onion, finely chopped 
Instructions
1. In small bowl, whisk together canola oil, orange juice, vinegar, sesame oil, honey, orange zest, ginger, mustard and pepper. Set aside.
2. In large bowl, mix chayote, spinach, bell pepper, orange segments and onion.
3. Pour vinaigrette over salad, toss and serve.
Cook''s Note: *May substitute chayote with Asian pear or green apple.
Yield
4 servings
serving size
1 1/4 cup (300 mL)
nutritional analysis
Per Serving
Calories
150
Total Fat
7 g
Saturated Fat
0.5 g
Cholesterol
0 mg
Carbohydrates
23 g
Fiber
5 g
Protein
2 g
Sodium
55 mg