Crispy Roasted Cauliflower
The perfect way to combine a taste for crunchy side dishes with the desire to eat more heart-healthy vegetables. Makes a great snack too!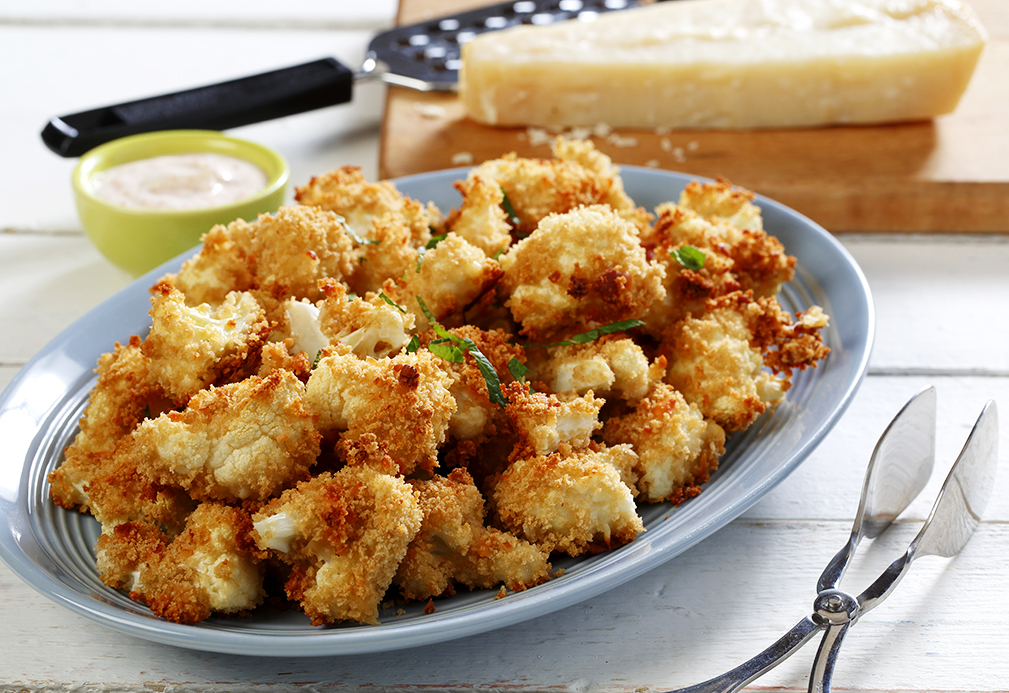 Ingredients
1 medium head of cauliflower
4 egg whites, lightly beaten with a fork
1/4 cup canola oil 60 mL
2 Tbsp Parmesan cheese 30 mL
1 1/2 cups whole wheat breadcrumbs or brown rice cereal crumbs 375 mL
Instructions
1. Preheat oven to 425ᵒF (220ᵒC). Line a large baking sheet with parchment paper.
2. Wash cauliflower; remove leaves and break into slightly larger than bite-sized pieces.
3. In bowl, combine egg whites and canola oil. In another bowl, place Parmesan cheese and breadcrumbs or cereal crumbs.
4. Dip each piece of cauliflower in the egg–oil mix and then into the crumbs to coat.
5. Place cauliflower pieces in a single layer on the baking sheet.
6. Roast for 20 minutes. Turn the pieces over and continue roasting for an additional 20 minutes or until golden and crispy.
Yield
4 servings
serving size
3/4 cup (175 mL)
nutritional analysis
Per serving
Calories
300
Total Fat
16 g
Saturated Fat
1.5 g
Cholesterol
5 mg
Carbohydrates
29 g
Fiber
3 g
Sugars
4 g
Protein
13 g
Sodium
200 mg
Potassium
54 mg