Cucumber with Snow Peas
Stir-frying cucumbers? Don't dismiss it till you've tasted it!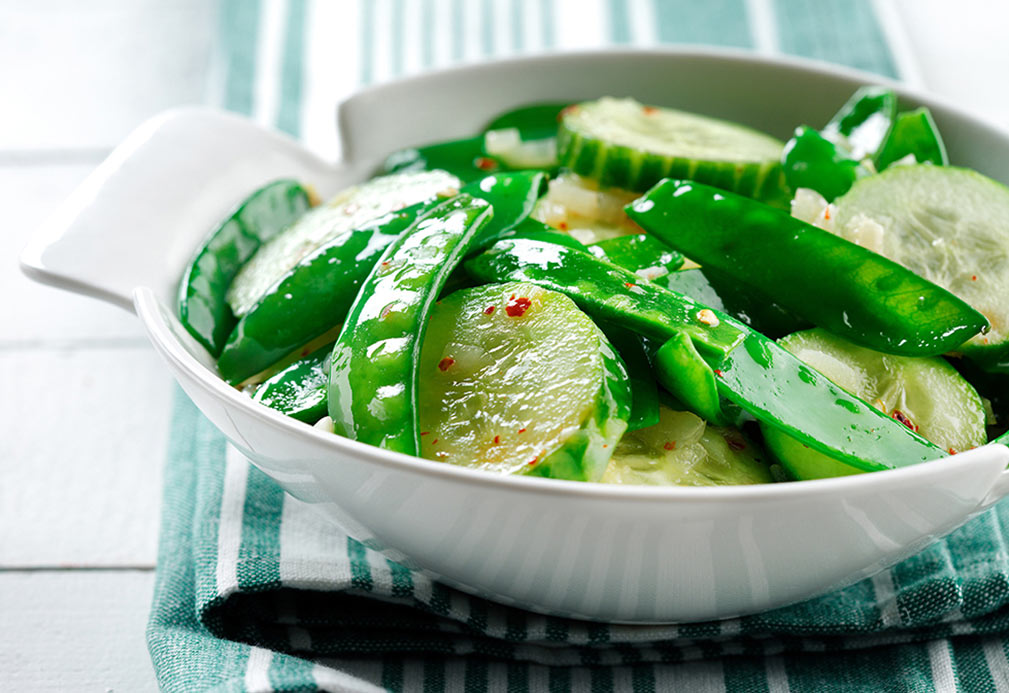 Ingredients
2 Tbsp canola oil 30 mL
1 small onion, finely chopped
1/4 tsp crushed red pepper flakes 1 mL
1 medium sized cucumber, seeded, thickly sliced
1 (6 oz/ 170 g) bag fresh snow peas, snip tips and remove strings
1 Tbsp cider vinegar 15 mL
1/2 tsp granulated sugar 2 mL
1/8 tsp ground ginger 0.5 mL
Instructions
1. In large wok or skillet, heat canola oil.
2. Stir in onion and sauté for 2 minutes, add crushed pepper and cucumber slices and sauté for 1 minute. Add snow peas and sauté until crispy tender. Stir in vinegar, sugar and ginger. Serve immediately.
Yield
4 servings
serving size
1/2 cup (125 mL)
nutritional analysis
Per Serving
Calories
110
Total Fat
7 g
Saturated Fat
0.5 g
Cholesterol
0 mg
Carbohydrates
9 g
Fiber
2 g
Protein
2 g
Sodium
0 mg