Roasted Cauliflower
The earthy flavors of cauliflower stand out due to the neutral flavor of canola oil.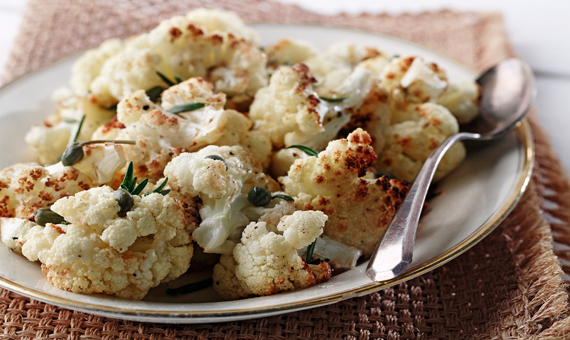 Ingredients
1 small cauliflower head (about 2 lb/900g)
2 Tbsp canola oil 30 mL
1/2 tsp salt 2 mL
1/2 tsp ground black pepper 2 mL
2 tsp garlic powder 10 mL
juice of 2 lemons (about 1/4 cup/60 mL)
1 Tbsp minced fresh rosemary 15 mL
2 Tbsp chopped capers 30 mL
Instructions
1. Preheat oven at 400 °F (200 °C).
2. Cut cauliflower head into similar sized florets. In bowl, toss cauliflower with canola oil, salt, pepper, garlic powder. Spread on parchment-lined baking sheet. Roast for 35 minutes or until cauliflower is golden brown.
3. Toss with lemon juice, rosemary and capers. Serve warm.
Yield
4 servings
serving size
3/4 cup (175 mL)
nutritional analysis
Per Serving
Calories
107
Total Fat
7 g
Saturated Fat
0.5 g
Cholesterol
0 mg
Carbohydrates
9 g
Fiber
3 g
Sugars
3 g
Protein
3 g
Sodium
463 mg
Potassium
418 mg