Crunchy Turkey Lentil Lettuce Wraps
Using dark green lettuce in place of the traditional iceberg gives these lettuce wraps a more vibrant color and makes them more nutrient-dense.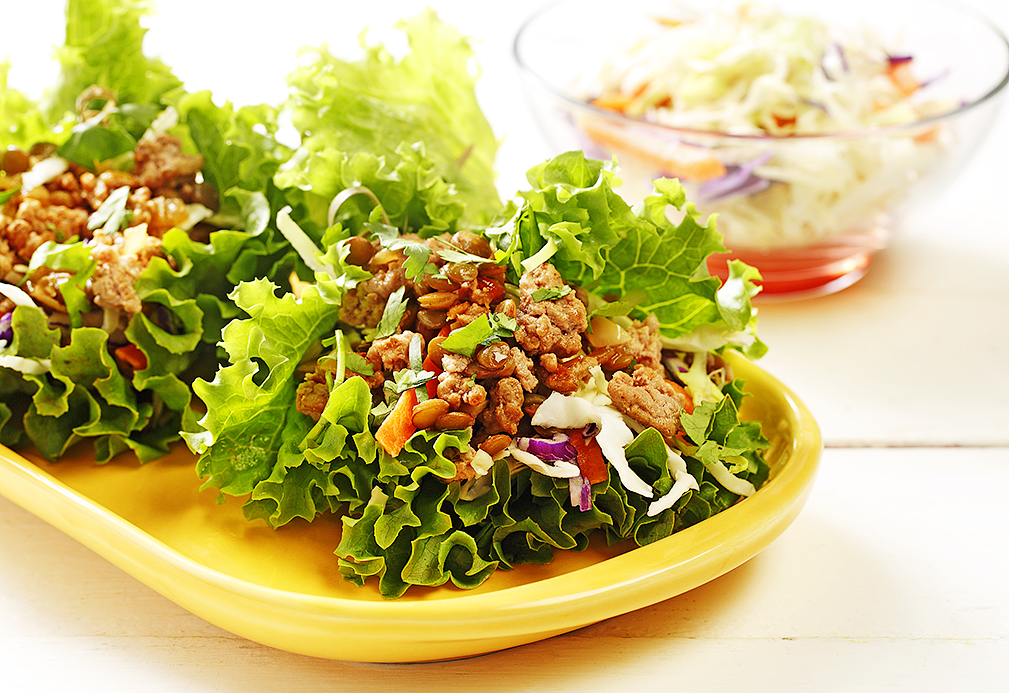 Ingredients
1/2 cup dry green lentils, rinsed 125 mL
1 1/4 cup water 310 mL
2 Tbsp canola oil, divided 30 mL
1 lb. ground turkey breast 500 g
1/2 cup finely chopped onion 125 mL
2 garlic cloves, minced
1 Tbsp grated fresh ginger root 15 mL
1 Tbsp sodium-reduced soy sauce 15 mL
12 large green leaf lettuce leaves
4 cups tricolored coleslaw mix 1 L
1 cup chopped cilantro 250 mL
Instructions
1. In saucepan, bring lentils and water to a boil. Reduce heat, cover, and simmer for about 20 minutes, until lentils are tender. Drain and set aside.
2. Meanwhile, heat 1 Tbsp (15 mL) of the canola oil in a saucepan over medium-high heat. Add ground turkey and cook until golden brown and fully cooked. Remove from pan.
3. In same saucepan, add remaining canola oil. Sauté onions and garlic for about 5–6 minutes. Stir in gingerroot and soy sauce and cook for an additional 3 minutes. Return turkey and add cooked lentils and coleslaw mix to the pan and stir to combine.
4. To assemble wraps: Place turkey mixture on lettuce leaf and top with cilantro.
Yield
12 wraps
serving size
1 wrap
nutritional analysis
Per serving
Calories
260
Total Fat
6 g
Saturated Fat
0.5 g
Cholesterol
35 mg
Carbohydrates
26 g
Fiber
6 g
Sugars
12 g
Protein
24 g
Sodium
380 mg
Potassium
526 mg