Deep, Dark and Stout Chili
Heart-healthy chili made with dark stout beer!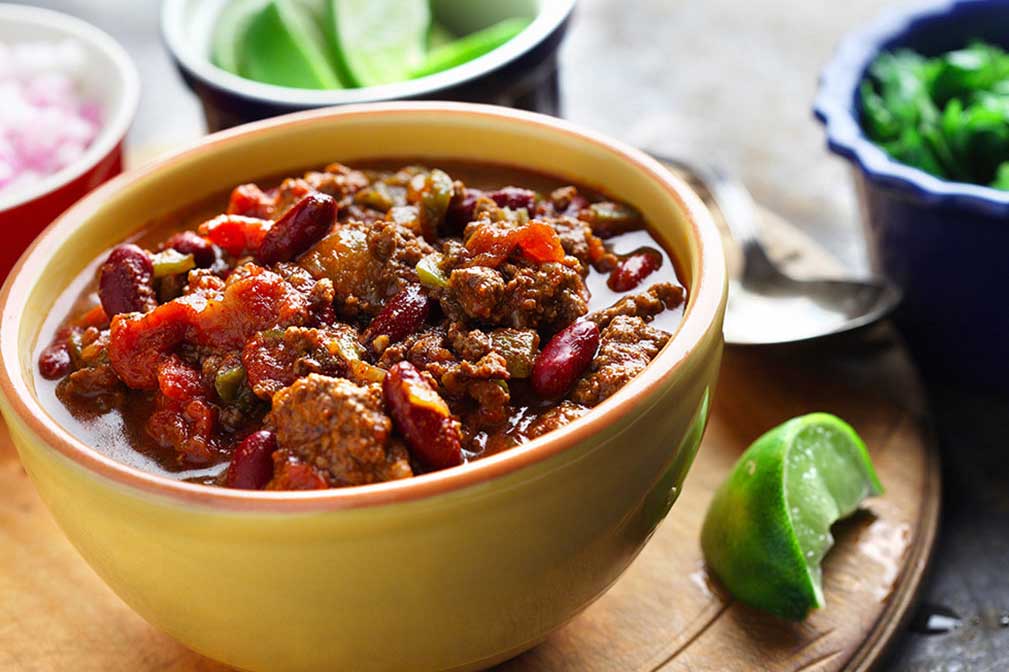 Ingredients
Chili:
2 Tbsp canola oil 30 mL
1 1/2 lb/750 g extra lean ground beef (or 1 lb/500 g extra lean ground beef
15-oz can kidney beans, rinsed and drained) 426 mL
2 cups diced green bell peppers 500 mL
1 cup diced red onion 250 mL
3 cans (14.5 oz/412 mL each) no-salt-added stewed tomatoes
1 bottle (12 oz/341 mL) dark stout beer
3 Tbsp chili powder 45 mL
1 1/2 Tbsp ground cumin 20 mL
1 1/2 Tbsp smoked paprika (optional) 20 mL
1 Tbsp sodium-free beef bouillon granules 15 mL
1 tsp salt 5 mL
Toppings :
1/2 cup chopped fresh cilantro leaves 125 mL
1/2 cup finely chopped red onion 125 mL
1 medium lime, cut into 6 wedges
Instructions
1. Heat 1 Tbsp (15 mL) canola oil in Dutch oven over medium-high heat. Working in two batches, brown beef, about 3-4 minutes per batch, stirring frequently.
2. Meanwhile, in a sauté pan heat remaining 1 Tbsp (15 mL) canola oil and cook bell peppers and onions 4 minutes or until onions are soft, stirring frequently. Stir into cooked beef. Add stewed tomatoes, beer, chili powder, cumin, paprika, and bouillon. Bring just to a boil over medium-high heat, reduce heat, cover and simmer 45 minutes. Stir in salt.
3. Serve chili with choice of toppings placed in three small bowls.
Cooks note: Like most chili recipes, the flavors are more blended if the chili is served the next day. This dish freezes well, too.
Yield
8 servings
serving size
1 1/3 cups (325 mL) chili
nutritional analysis
Per Serving
Calories
240
Total Fat
8 g
Saturated Fat
1.5 g
Cholesterol
45 mg
Carbohydrates
18 g
Fiber
5 g
Protein
20 g
Sodium
480 mg