Pistachio Baklava
This honey syrup-glazed baklava is a sweet, nutty treat that's simple to assemble. Brushing the layers of phyllo with canola oil instead of butter yields a light and flaky result with much less saturated fat. See the recipe video below.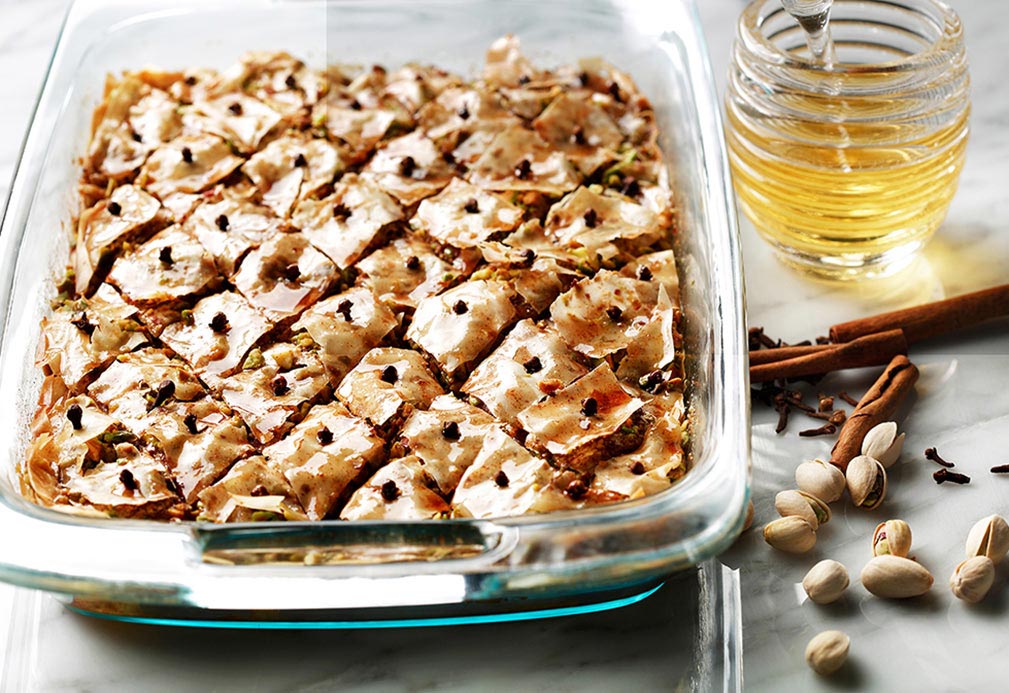 Ingredients
Baklava
4 cups pistachios, toasted, finely chopped 1 L
1 Tbsp ground cinnamon 15 mL
1/4 cup granulated sugar 60 mL
1 cup canola oil 250 mL
24 sheets phyllo pastry dough
1/2 cup whole milk 125 mL
whole cloves, as needed 
Syrup
1 cup granulated sugar 250 mL
1/2 cup water 125 mL
1/4 cup honey 60 mL
2 tsp ground cinnamon 10 mL
1 tsp vanilla extract 5 mL
Instructions
1. For baklava: In small bowl, combine toasted pistachios, cinnamon and sugar and toss to mix evenly.
2. Coat bottom and sides of 9 x 13-inch (22 x 33 cm) baking dish with canola oil. Cut phyllo sheets so they fit snugly in baking dish. Place two sheets of phyllo in dish and brush or spray with canola oil. Sprinkle with about 1/2 cup (125 mL) of pistachio mixture. Place another 2 sheets of phyllo over pistachio mixture, brush or spray with canola oil, then sprinkle or brush some milk evenly over top. Continue in this fashion, alternating between canola oil and milk-brushed sheets and pistachio mixture until all pistachio mixture is used, about 10 layers. Use 3 or 4 layers of phyllo for top layer. Brush top sheet with canola oil and refrigerate until firm, 15 to 30 minutes.
3. Preheat oven to 350 °F (180 °C). Cut dessert into 2-inch (5-cm) diamonds and stick whole clove into middle of each portion to hold phyllo together and add flavor.
4. Bake until golden brown, about 30 to 35 minutes.
5. For syrup: In sauce pan, combine sugar, water, honey, cinnamon and vanilla, bring to simmer and cook for up to 10 minutes to thicken or until it has consistency of maple syrup. Pour syrup evenly over warm baklava, making sure syrup coats cooked phyllo. Cool thoroughly before serving. 
Cook's note: Keep phyllo dough covered with a moist dish towel while using it to avoid drying it out.
Yield
18 servings
serving size
1 piece
nutritional analysis
Per Serving
Calories
410
Total Fat
27 g
Saturated Fat
2.5 g
Cholesterol
0 mg
Carbohydrates
39 g
Fiber
4 g
Protein
7 g
Sodium
135 mg