Bunless Bison Burger with Sautéed Vegetables and Balsamic Reduction
Upgrade this bun-less burger with a balsamic reduction and sautéed vegetables, made with canola oil to help keep saturated fat in check. Dijon mustard and rosemary enhance the flavor of bison.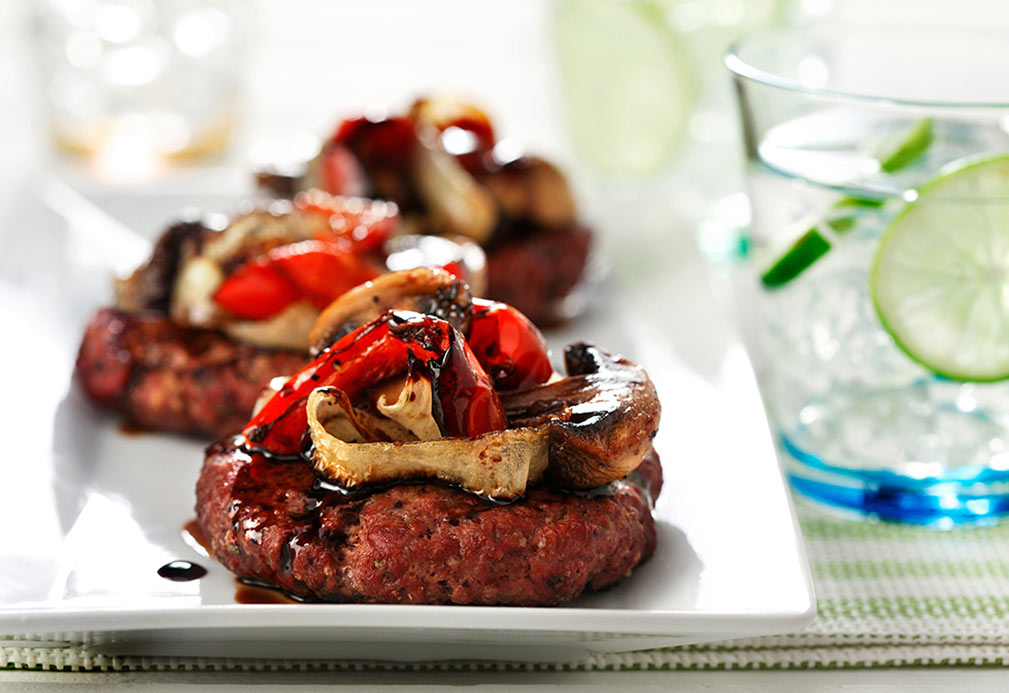 Ingredients
1/2 cup balsamic vinegar 125 mL
1 lb ground bison or lean ground beef 500 g
2 Tbsp breadcrumbs 30 mL
1 tsp Dijon mustard 5 mL
1 tsp finely chopped fresh rosemary 5 mL
1/4 tsp salt 1 mL
1/4 tsp ground pepper 1 mL
1 1/2 Tbsp canola oil, divided 20 mL 
2 small onions, sliced 
1 1/2 cup sliced mushrooms 375 mL
1 red bell pepper, seeds removed, sliced
Instructions
1. In small saucepan, bring balsamic vinegar to boil. Reduce heat and simmer until vinegar is syrupy, about 10 minutes.
2. Meanwhile, in bowl, combine bison, breadcrumbs, mustard, rosemary, salt and pepper. Shape four burgers and set aside.
3. In nonstick skillet, heat 1 Tbsp (15 mL) canola oil over medium-high heat and cook onions until browned, 3-5 minutes, stirring constantly. Add mushrooms and bell pepper, cook 3 minutes. Remove and set aside.
4. In same skillet, heat remaining canola oil and cook bison burgers until the meat is fully-cooked.
5. Garnish bison burger with sautéed vegetables and drizzle with reduced balsamic vinegar.
Yield
4 servings
serving size
1 burger
nutritional analysis
Per Serving
Calories
250
Total Fat
10 g
Saturated Fat
2 g
Cholesterol
60 mg
Carbohydrates
15 g
Fiber
2 g
Protein
24 g
Sodium
260 mg
Potassium
258 mg