Fennel Orange Salad with Lemon Vinaigrette
The anise flavor of fennel pairs perfectly with the sweetness of oranges and the peppery radicchio in this refreshing salad. The lemon dressing made with canola oil complements every element of the other ingredients.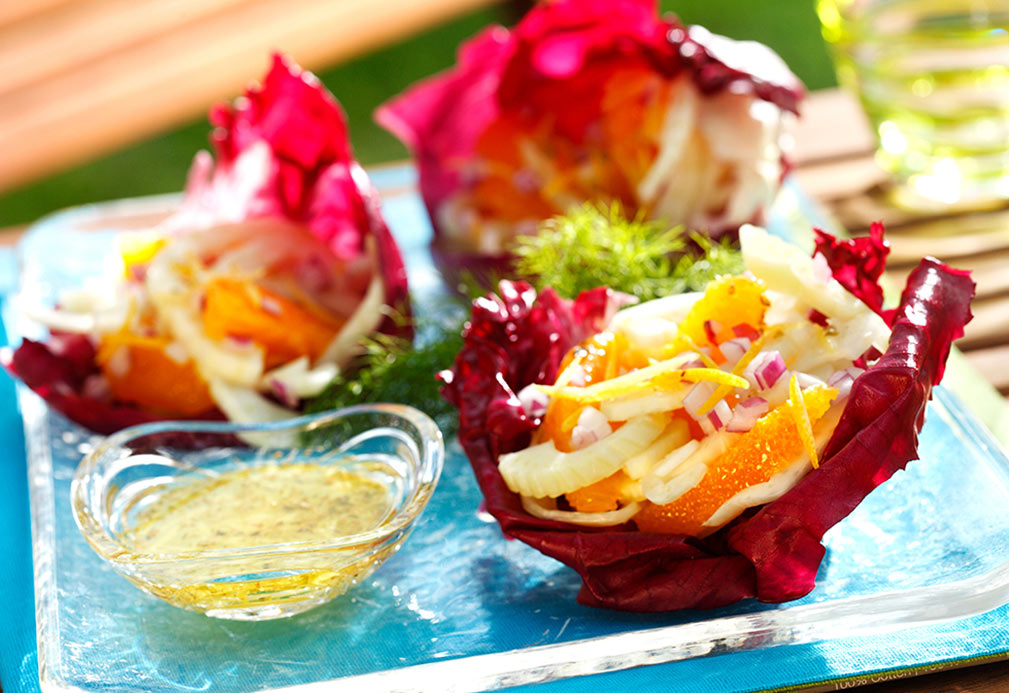 Ingredients
Lemon Vinaigrette
1 tsp finely grated lemon zest 5 mL
2 Tbsp fresh lemon juice 30 mL
1 Tbsp canola oil 15 mL
1/2 tsp dried oregano leaves 2 mL
Salad
2 cups chopped fennel bulb (about 1 large fennel bulb or 2 small bulbs) 500 mL
2 oranges, sectioned (about 1 cup/250 mL of sections)
2 Tbsp minced red onion 30 mL
8 radicchio leaves
Instructions
1. In large bowl, whisk together vinaigrette ingredients. Add fennel, oranges and red onion and toss to coat. (To section oranges, slice off both ends. Stand oranges on one sliced end and using sharp knife, slice away outer skin and white portion beneath, revealing sections. Use knife to remove each individual section.)
2. Arrange radicchio leaves on serving platter. Fill leaves with fennel mixture and serve.
Tips: For additional peppery flavor and crunch, add 1/2 cup thinly-sliced, fresh radishes. For a complete meal, top the fennel mixture with grilled chicken breast, grilled or steamed shrimp or fresh lump crab meat. You may also substitute the oranges with fresh grapefruit or diced cantaloupe (1 cup). Using both fresh citrus zest and juice provides greater depth of flavor.
Yield
4 servings
serving size
1/2 cup (125 mL) fennel mixture, 2 radicchio leaves
nutritional analysis
Per Serving
Calories
100
Total Fat
4 g
Saturated Fat
0 g
Cholesterol
0 mg
Carbohydrates
16 g
Fiber
4 g
Protein
2 g
Sodium
30 mg