Fortune Cookies
Create your own personalized message to insert into these homemade cookies.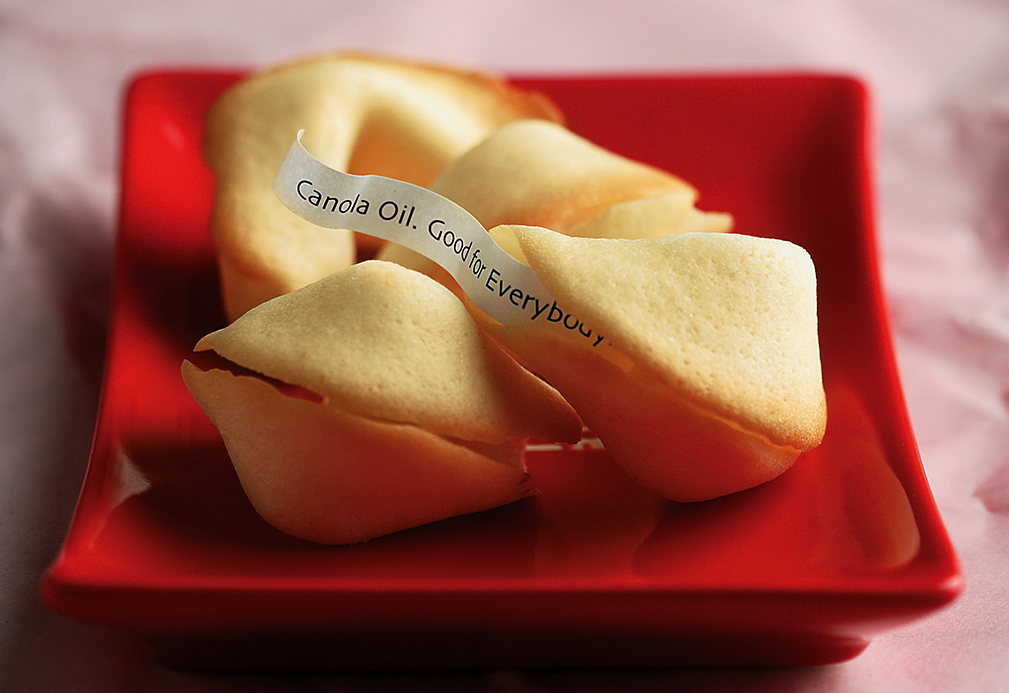 Ingredients
2 egg whites
1/2 tsp vanilla extract 2 mL
1/2 tsp almond extract 2 mL
3 Tbsp canola oil 45 mL
1/2 cup all purpose flour 125 mL
1 1/2 tsp cornstrach 7 mL
1/4 tsp salt 1 mL
1/2 cup granulated sugar 125 mL
1 Tbsp water 15 mL
Instructions
1. Preheat oven to 350 °F (180 °C). Spray canola oil onto two small 9 x 13 inch (23 x 23 cm) baking sheets. Before preparing cookies, cut out 12 to 14 paper pieces, 3 1/2 x 1/2 inch (9 x 1 cm), and write fortunes on each piece of paper.
2. In medium bowl, whisk together egg whites, vanilla, almond extract and canola oil until mixture is frothy.
3. In separate small bowl, sift together flour, cornstarch, salt and sugar. Stir in water. Add flour mixture to canola oil mixture and whisk until ingredients are combined and mixture is very smooth.
4. Drop cookie dough, by tablespoons, onto one of the prepared baking sheets. Then spread dough with a small spatula until the dough is about 3 1/2 inches (9 cm) in diameter. Bake for about 14 minutes or until outer edge of each cookie turns golden brown and the cookies are easy to remove from the pan with a spatula.
5. Remove one cookie at a time and flip it over in your hand. Place one of the fortunes in the middle of the cookie. The cookies are hot to handle. Be careful. Quickly fold the cookie in half and then holding the outer edges of the folded half, gently press folded edge (browned edge facing up) over the edge of a glass to form the characteristic shape of the fortune cookie. Quickly place into muffin cup so the cookie will cool in this shape.
Yield
12 to 14 cookies
serving size
1 cookie
nutritional analysis
Per Serving
Calories
250
Total Fat
13 g
Saturated Fat
1.5 g
Cholesterol
125 mg
Carbohydrates
17 g
Fiber
2 g
Protein
20 g
Sodium
420 mg