Freezer Quinoa Peanut Butter Oat Balls
These better-for-you snacks are easy to make and full of flavor and fiber. Your kids will love them!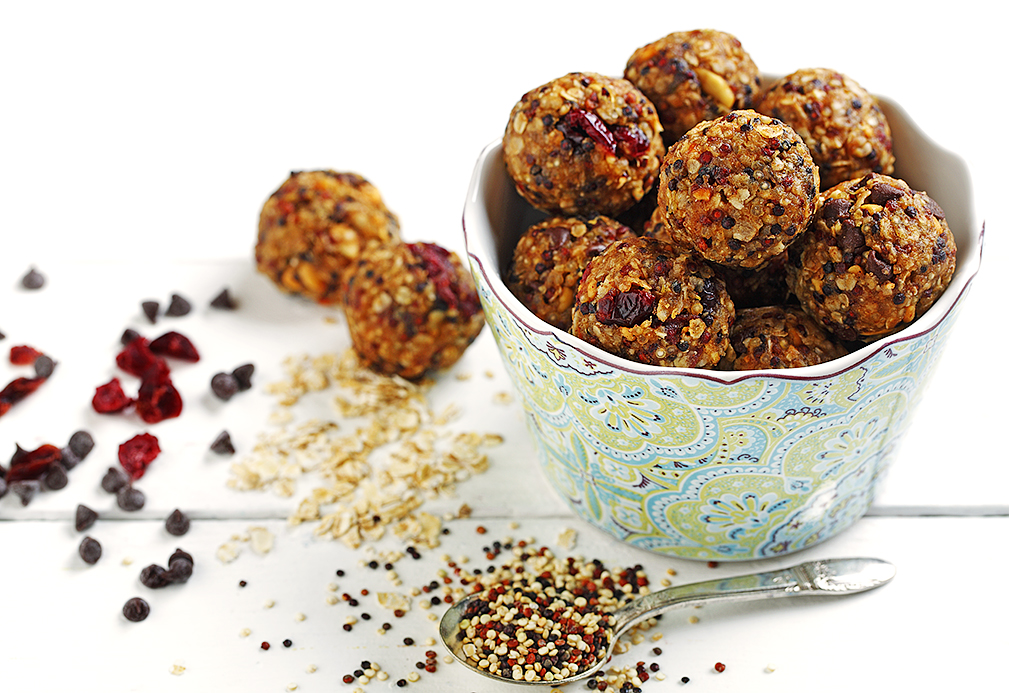 Ingredients
1 cup cooked, chilled quinoa* 250 mL
1/2 cup reduced-fat chunky peanut butter 125 mL
1 cup dry quick cooking oats 250 mL
3 Tbsp packed dark brown sugar 45 mL
1 Tbsp canola oil 15 mL
1 tsp ground cinnamon 5 mL
1 tsp vanilla extract 5 mL
1/4 tsp salt 1 mL
3 Tbsp mini chocolate chips OR dried cranberries, chopped 45 mL
Instructions
1. In medium microwave-safe bowl, place peanut butter. Microwave on high for 30 seconds or until soft; stir in the chilled quinoa and remaining ingredients until well blended.
2. Shape into 24 balls (about 1 inch/2.5 cm each) and place on parchment paper or foil-lined baking sheet and freeze until firm, about 2–3 hours.
3. When frozen, transfer balls to an airtight container.
4. To serve, remove desired amount of balls and let stand 2 minutes to thaw slightly.
*Cook's Note: If leftover quinoa is not available, bring 3/4 cup water to a boil in a small saucepan, stir in 6 Tbsp (90 mL) dry quinoa, reduce heat, cover and cook 12 minutes or until water is absorbed. (If the water has not completely absorbed after the recommended cooking time, remove cover and cook 1–2 minutes longer.) To cool quickly, spread quinoa on a dinner plate or baking pan in a thin layer and let stand 10 minutes to cool.
Yield
24 balls, each about 1 inch (2.5 cm) in diameter
serving size
2 balls
nutritional analysis
Per serving
Calories
70
Total Fat
3.5 g
Saturated Fat
0.5 g
Cholesterol
0 mg
Carbohydrates
8 g
Fiber
1 g
Sugars
2 g
Protein
2 g
Sodium
40 mg
Potassium
29 mg