Toasted Coconut Almond Granola
Keep a batch of this in the fridge for a quick, fibre-rich snack or to top Greek yogurt with berries for breakfast.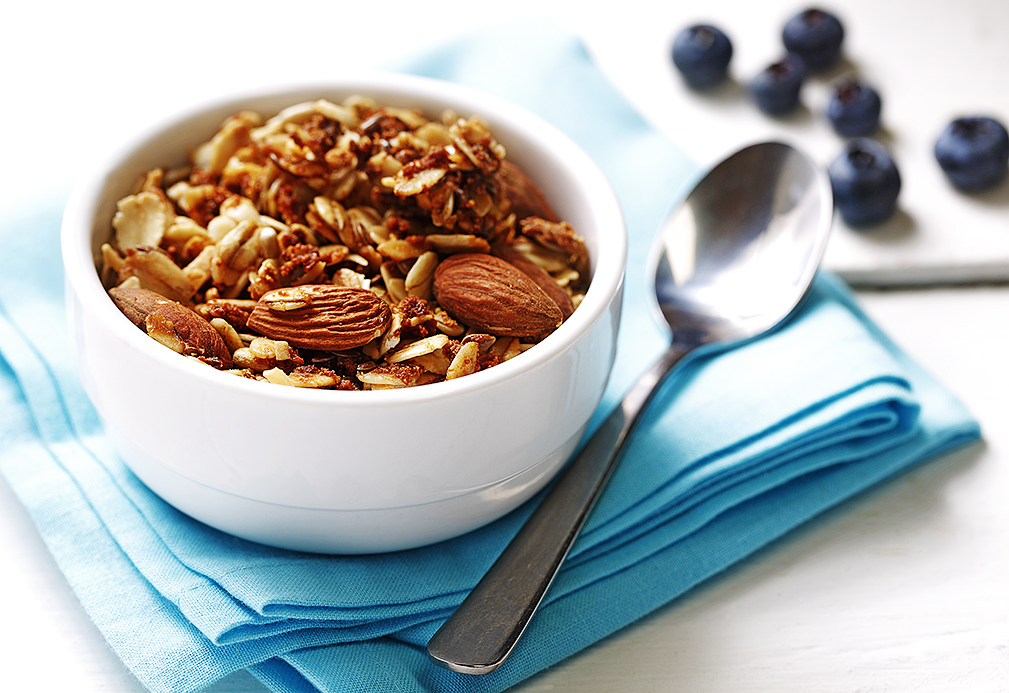 Ingredients
4 cups rolled oats 1 L
2/3 cup raw, unsalted sunflower seeds 150 mL
2/3 cup flaxseeds 150 mL
2/3 cup skim milk powder 150 mL
1/3 cup canola oil 75 mL
1/3 cup honey 75 mL
3/4 cup unsweetened flaked coconut 175 mL
1/2 cup whole or slivered almonds 125 mL
Instructions
1. Preheat oven to 275ᵒF (140ᵒC). Line one large or two smaller rimmed baking sheets with parchment paper.
2. In a large bowl, toss together oats, sunflower seeds, flaxseeds, and skim milk powder.
3. In a microwave-safe glass measuring cup or bowl, combine canola oil and honey. Microwave for about 45 seconds to warm. Stir to mix well. Pour over oats and toss well to combine.
4. Spread mixture on baking sheet and bake for 25 minutes. Remove from oven, toss granola, and add coconut and almonds. Continue baking for 20 minutes. Turn off oven. Leave granola in the oven while oven cools, for about 1 hour.
5. Store granola in an airtight container in the fridge.
Yield
20 servings
serving size
1/3 cup (75 mL)
nutritional analysis
Per serving
Calories
210
Total Fat
11 g
Saturated Fat
2.5 g
Cholesterol
0 mg
Carbohydrates
25 g
Fiber
4 g
Sugars
9 g
Protein
5 g
Sodium
15 mg
Potassium
77 mg