Granola
A homemade granola like this is nice with just milk or to use as a topping on yogurt!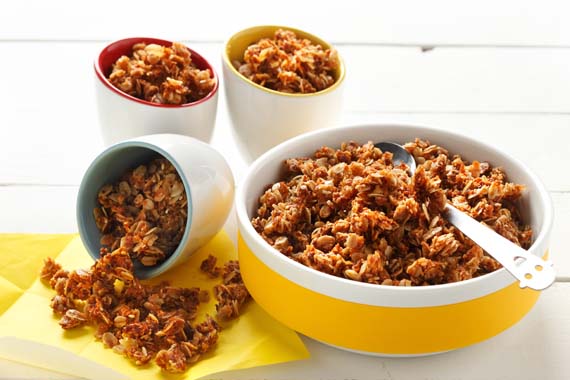 Ingredients
canola cooking spray
2 cups slow-cooking rolled oats 500 mL
1/2 cup wheat germ 125 mL
3/4 cup finely flaked coconut 175 mL
2 Tbsp sesame seeds 30 mL
1/4 tsp salt 1 mL
1 Tbsp milk 15 mL
1/2 cup canola oil 125 mL
1/3 cup honey 75 mL
Instructions
1. Preheat the oven to 300 °F (150 °C). Prepare a baking sheet by spraying with canola cooking spray.
2. In large bowl, combine dry ingredients - oats, wheat germ, coconut, seeds and salt. Add milk, canola oil and honey, stirring constantly.
3. Spread on the baking sheet about 1/4 inch (6 mm) thick. Bake for 20 to 30 minutes until browned, stirring two or three times during cooking. Cool and store in tightly covered container in refrigerator for up to one week. Serve as a cereal with milk and fruit or eat by the handfuls as a snack.
Yield
4 cups (1L) or 8 half cup servings
serving size
nutritional analysis
Per Serving
Calories
262
Total Fat
20 g
Saturated Fat
4 g
Cholesterol
0 mg
Carbohydrates
20 g
Fiber
2 g
Protein
3 g
Sodium
84 mg