Quinoa Breakfast Bowls
Start a new day with a hot bowl of sweet nuttiness. Quickly toasting sunflower seeds and quinoa in canola oil first helps their nutty flavors come through.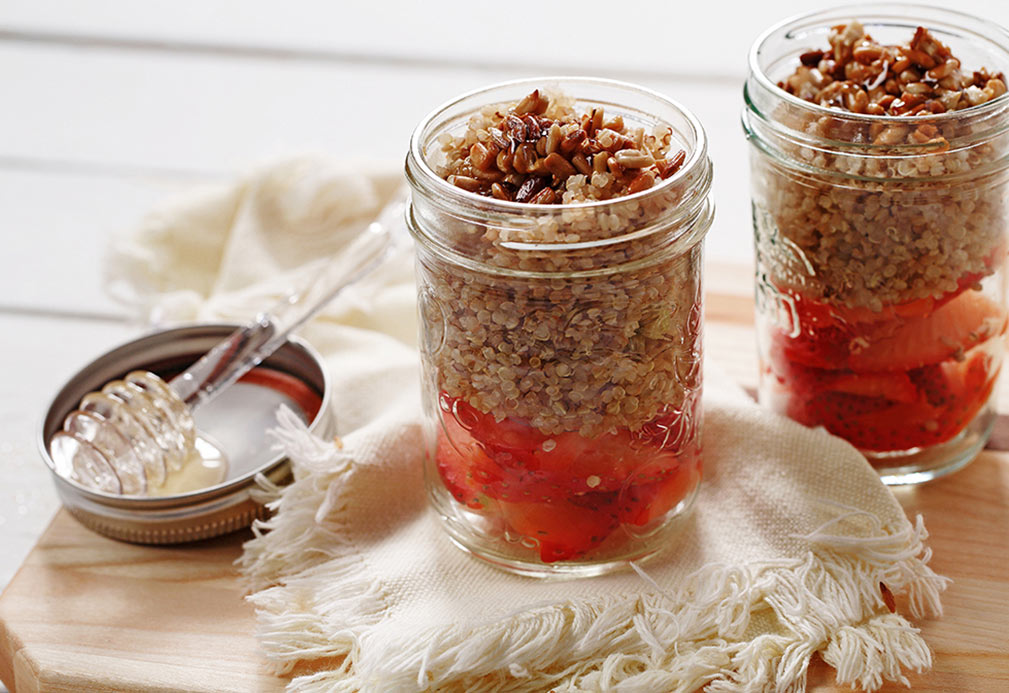 Ingredients
1 Tbsp canola oil, divided 15 mL
1/4 cup sunflower seeds 60 mL
1 1/4 cups dry quinoa 310 mL
2 1/2 cups water 625 mL
1 Tbsp golden raisins, cut in half 15 mL
1/4 tsp salt 1 mL
1/2 tsp vanilla extract 2 mL
1 Tbsp honey 15 mL
Instructions
1. In medium skillet, heat 1 tsp (5 mL) canola oil over medium high heat and add sunflower seeds. Cook 1-2 minutes or until seeds begin to lightly brown, then set aside on separate plate.
2. In saucepan, add 2 tsp (5 mL) canola oil, then quinoa and cook 3 minutes or until quinoa begins to lightly brown. Slowly add water, raisins and salt. Bring to a boil, then reduce heat to medium low, covering and cooking 15 minutes or until water has absorbed. Remove from heat and stir in vanilla.
3. Spoon quinoa into four cereal bowls, drizzling evenly with honey, and sprinkle with toasted sunflower seeds.
Yield
4 servings (about 3 cups/750 mL)
serving size
3/4 cup (175 mL)
nutritional analysis
Per Serving
Calories
310
Total Fat
10 g
Saturated Fat
0.5 g
Cholesterol
0 mg
Carbohydrates
42 g
Fiber
15 g
Sugars
7 g
Protein
11 g
Sodium
160 mg
Potassium
332 mg