Pomegranate-Ginger Salad with Fresh Fennel
Make this colorful salad when berries are at their best. The zesty dressing will stay free-flowing in the fridge thanks to canola oil's low saturated fat content. Be sure to place the fennel on the salad after the dressing so it doesn't turn pink.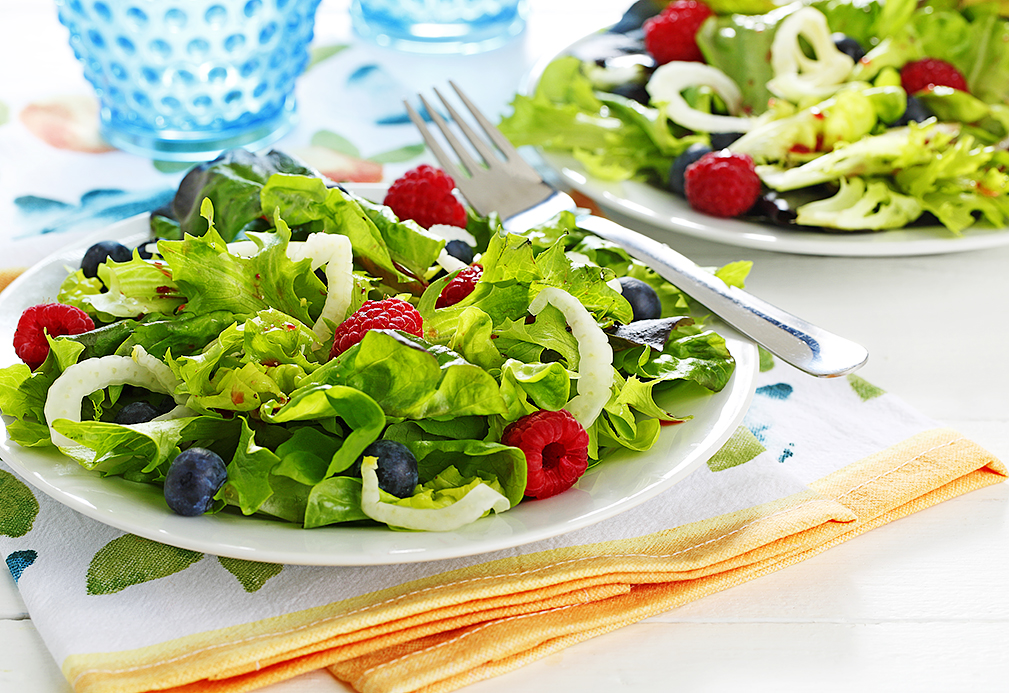 Ingredients
6 cups spring greens 1.5 L
1 cup blueberries or raspberries (or 1/2 cup / 125 mL of each) 250 mL
1/2 cup pomegranate juice 125 mL
2 Tbsp canola oil 30 mL
2 Tbsp white balsamic vinegar 30 mL
2 tsp granulated sugar 10 mL
2 tsp grated gingerroot 10 mL
1/4 tsp salt 1 mL
1/4 tsp ground black pepper 1 mL
1 cup very thinly sliced fresh fennel bulb 250 mL
Instructions
1. Place the spring greens on 4 salad plates; top with berries and set aside.
2. In a jar, combine pomegranate juice, canola oil, vinegar, sugar, ginger, salt, and pepper; secure with lid, shake vigorously until well blended. Spoon 3 Tbsp (45 mL) over each serving and arrange fennel around outer edges of each serving.
Yield
4 servings
serving size
2 cups (500 mL) salad plus 3 Tbsp (45 mL) dressing
nutritional analysis
per serving
Calories
130
Total Fat
7 g
Saturated Fat
0.5 g
Cholesterol
0 mg
Carbohydrates
16 g
Fiber
4 g
Sugars
11 g
Protein
2 g
Sodium
210 mg
Potassium
103 mg