Warm Salmon Pasta Salad
Canola oil can be used in any recipe that calls for vegetable or cooking oil.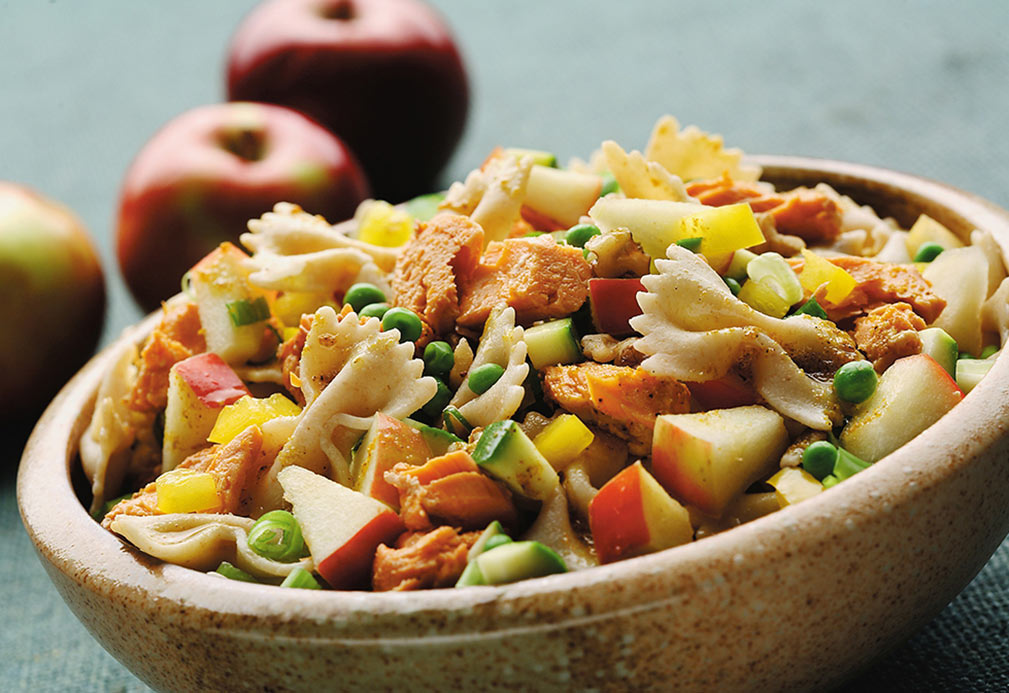 Ingredients
 2 cups whole wheat bow-tie pasta 500 mL
1 red apple, cored and diced*
2 (6oz/170g) cans sockeye salmon, broken onto bite-size pieces
1 cup sliced celery 250 mL
3 green onions, diced
1 small zucchini, trimmed and diced
1 yellow pepper, seeded and diced
1 cup frozen baby peas, thawed 250 mL
1/4 cup coarsely chopped walnuts 60 mL
Curry Vinaigrette
1/2 cup canola oil 125 mL
1 Tbsp lemon juice 15 mL
2 tsp curry powder 10 mL
salt and pepper
Instructions
1. Cook pasta according to package directions. Drain well.
2. In a salad bowl, combine pasta, apple, salmon, celery, green onions, zucchini, yellow pepper and baby peas. Set aside.
3. To prepare the vinaigrette: In a small bowl, combine canola oil, lemon juice, curry powder, salt and pepper. Heat for 30 seconds in microwave.
4. Pour vinaigrette over salad and toss lightly. Garnish with walnuts. Serve immediately.
Tip: To prevent browning, place apple pieces in a solution of 2 cups (500 mL) cold water and 2 Tbsp (30 mL) lemon juice, for 1-2 minutes.
Yield
8 servings
serving size
nutritional analysis
Per Serving
Calories
290
Total Fat
20 g
Saturated Fat
2 g
Cholesterol
20 mg
Carbohydrates
17 g
Fiber
3 g
Protein
13 g
Sodium
80 mg