Little Spring Cakes
These moist little cakes are perfect for a spring brunch or dinner party. Canola creates a much moister cake.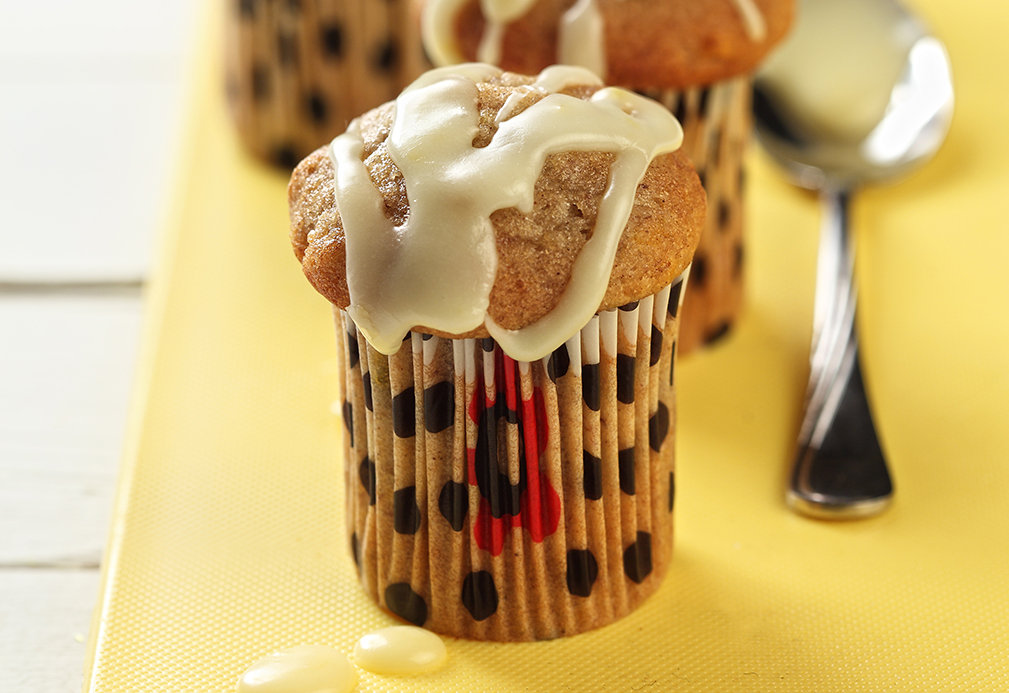 Ingredients
canola oil cooking spray
Batter
3 cups all-purpose flour 750 mL
1 tsp ground cinnamon 5 mL
1 tsp baking soda 5 mL
1 tsp salt 5 mL
1/2 tsp ground nutmeg 2 mL
1 1/4 cups canola oil 300 mL
2 cups granulated sugar 500 mL
2 cups very ripe bananas, mashed 500 mL
1 cup crushed pineapple, drained 250 mL
1 cup mandarin oranges, chopped 250 mL
1/2 cup pecans, chopped and toasted 125 mL
3 large eggs
1 1/2 tsp pure vanilla extract 7 mL
Icing Glaze
2 cup confectioners sugar 500 mL
2 tsp mandarin orange zest 10 mL
2 tsp canola oil 10 mL
2 tsp mandarin orange juice (variable)10 mL
Instructions
1. Preheat oven 325 °F (160 °C). Prepare two 12-cup muffin tins by spraying with cooking spray.
2. In large bowl, combine flour, cinnamon, soda, salt and nutmeg. Set aside.
3. In mixing bowl attached with paddle attachment, on medium speed, blend canola oil, sugar, bananas, pineapple, oranges, pecans, eggs and vanilla until combined.
4. On low speed, add flour mixture. Blend until fully mixed, about 2 minutes.
5. Divide evenly into prepared muffin tins. Place into preheated oven, bake until light brown and toothpick inserted into center comes out clean (a piece of fruit from the mixture may stay on toothpick, which is fine) about 18 to 24 minutes.
6. Cool for 10 minutes in tin. Remove from tins and place on wire rack to cool completely.
7. To make icing glaze, in bowl, whisk together sugar, zest and canola oil. Drizzle juice until desired pourable texture is obtained. Drizzle a few tablespoons of glaze on top of each cake.
Tip: You can freeze the cakes prior to glazing for up to 2 months.
Yield
24 little cakes
serving size
1 little cake
nutritional analysis
Per Serving
Calories
310
Total Fat
14 g
Saturated Fat
1.5 g
Cholesterol
25 mg
Carbohydrates
45 g
Fiber
1 g
Protein
3 g
Sodium
160 mg