Orange Glazed Salmon over Sauteed Spinach
Pretty to look at, delicious to eat, salmon-infused with seasonal fresh orange and heart-healthy canola oil served over slightly wilted spinach is easy to make any time of year.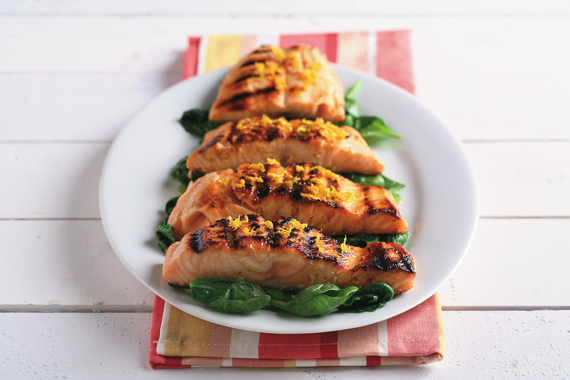 Ingredients
1 orange, washed, grated* and juiced
2 Tbsp honey 30 mL
1 Tbsp brown sugar 15 mL
1 Tbsp canola oil, divided 15 mL
1/4 tsp red pepper flakes 1 mL
1 (12oz/350g) salmon fillet, cut in 4 pieces
8 oz fresh spinach, trimmed 250g
1 Tbsp lemon juice 15 mL
1/8 tsp freshly-ground black pepper 0.5 mL
Instructions
1. Combine juice from orange, honey, brown sugar, 2 tsp (10 mL) canola oil and red pepper flakes.
2. Arrange salmon in dish just big enough to hold fillet; pour orange juice mixture over salmon. Marinate in refrigerator for 30 minutes, turning salmon once to distribute flavors. Discard marinade.
3. Grill salmon skin side up, over medium heat for 5 to 7 minutes; turn and cook for another 5 to 7 minutes, until fish flakes easily.
4. Just before salmon is done, saute spinach in 1 tsp (5 mL) canola oil. Season with lemon juice and pepper.
5. Spoon spinach onto heated plates. Top with salmon. Sprinkle with grated orange peel.
Note: *reserve grated orange rind for garnish.
Yield
4 servings
serving size
3/4 cup (175 mL)
nutritional analysis
Per Serving
Calories
240
Total Fat
11 g
Saturated Fat
1.5 g
Cholesterol
55 mg
Carbohydrates
17 g
Fiber
2 g
Protein
20 g
Sodium
85 mg