Marinated Cantenaar Cheese
A wonderful appetizer for a special occasion. Cantenaar has 40% less fat and 25% salt than ordinary cheese and it is the perfect compliment to a health lifestyle.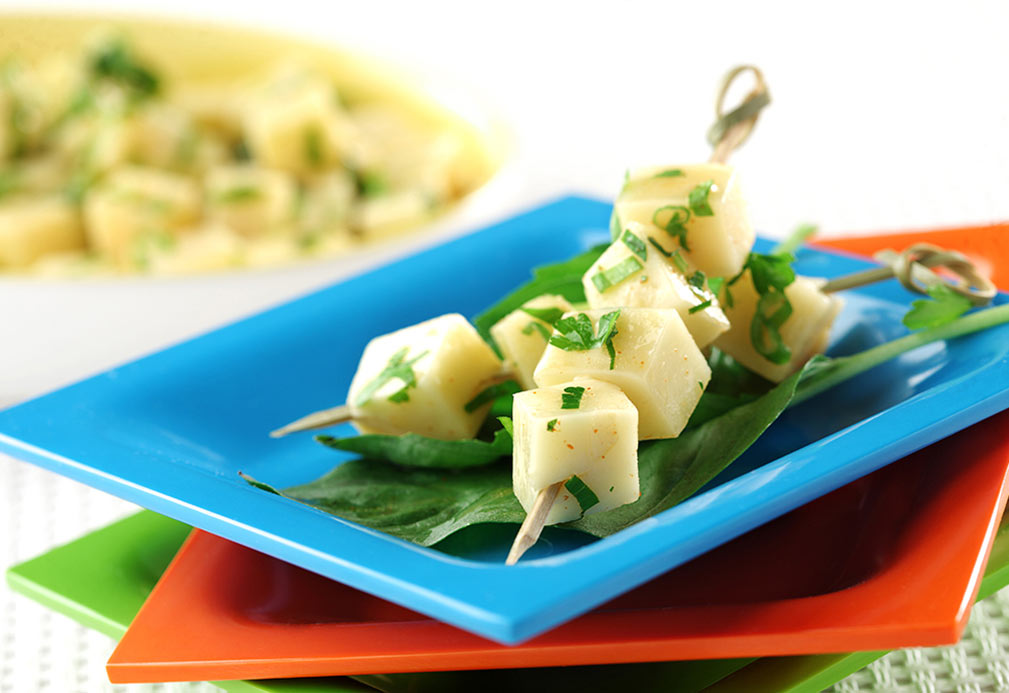 Ingredients
1/2 lb Cantenaar cheese, cut into 1/2- inch cubes 50 g
1 Tbsp canola oil 15 mL
2 Tbsp white wine vinegar 30 mL
1 tsp honey 5 mL
2 cloves garlic, finely minced
1/4 cup finely chopped fresh basil 60 mL
1/4 cup finely chopped fresh parsley 60 mL
1/4 cup finely chopped green onion 60 mL
1/4 tsp ground cayenne pepper 1 mL 
Instructions
1. Place cheese cubes in medium glass or ceramic mixing bowl.
2. In another small bowl, whisk together canola oil, vinegar, honey and garlic. Add basil, parsley, green onion and cayenne pepper and mix well. Pour marinade over cheese. Store in the refrigerator for up to 2 days. Let marinated cheese set at room temperature for 1 hour prior to service. Serve with picks. 
Note: If you can't find Cantenaar cheese, try with Bocconcini or other low fat, mild flavor cheese.
Yield
10 servings
serving size
2 pieces of cheese
nutritional analysis
Per Serving
Calories
70
Total Fat
4.5 g
Saturated Fat
2 g
Cholesterol
10 mg
Carbohydrates
2 g
Fiber
0 g
Protein
7 g
Sodium
160 mg