Orange Almond Sponge Cake with Blueberries
A deliciously moist cake that offers fiber and endless options for fruit toppings.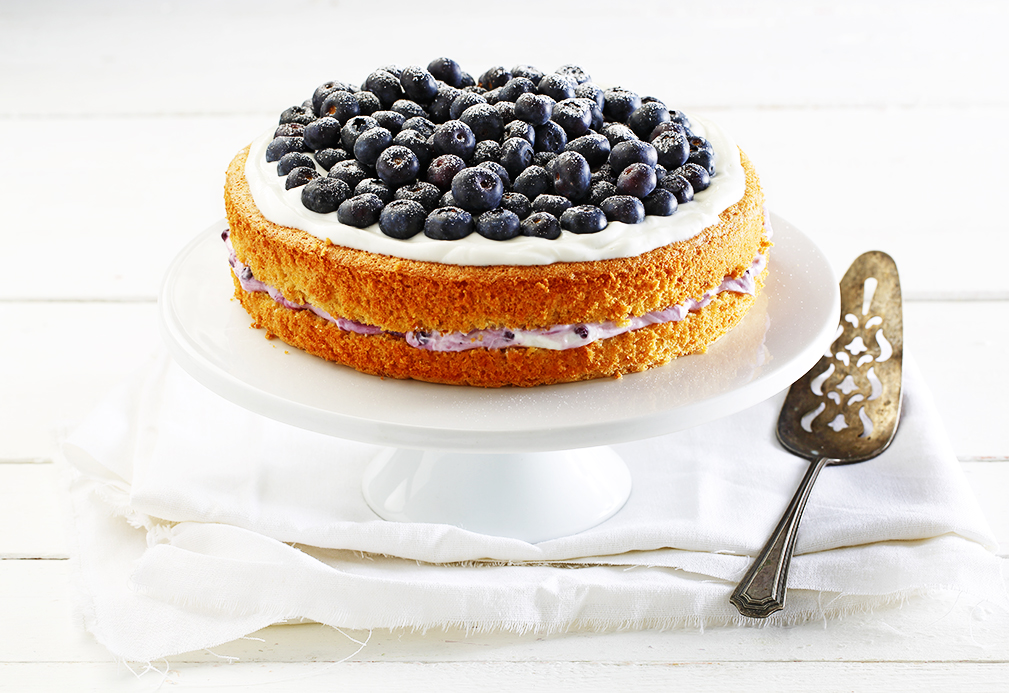 Ingredients
6 eggs, separated
1/8 tsp cream of tartar .5 mL
1/2 cup granulated sugar 125 mL
1/2 cup canola oil 125 mL
1/2 tsp pure almond extract 2 mL
1/2 cup whole wheat flour or gluten-free flour 125 mL
1 cup almond meal (very finely ground almonds or almond flour) 250 mL
2 Tbsp finely grated orange zest 30 mL
1/8 tsp salt .5 mL
3 cups fresh or frozen thawed blueberries to garnish 750 mL
3 cups nonfat blueberry yogurt 750 mL
Instructions
1. Preheat oven to 325ᵒF (160ᵒC). Line the bottom of a 9-inch springform pan with parchment paper.
2. In a large bowl, beat egg whites with cream of tartar for about 2 minutes or until frothy. In two additions, add 1/4 cup (60 mL) of the sugar, beating until soft peaks form.
3. In another bowl, beat egg yolks with the remaining sugar for about 2 minutes until light yellow and thick. Do not continue to beat. Add canola oil, almond extract, almond meal, flour, orange zest, and salt. Stir gently to combine. Stir in about one-third of the egg whites.
4. Add remaining egg whites and fold until mixed. Transfer to springform pan.
5. Bake for about 50 minutes or until toothpick inserted comes out clean and cake is firm to touch. Allow cake to cool fully before slicing and serving. Serve with blueberries and yogurt. Cake freezes well.
Yield
12 servings
serving size
1 slice
nutritional analysis
Per serving
Calories
270
Total Fat
17 g
Saturated Fat
2 g
Cholesterol
95 mg
Carbohydrates
25 g
Fiber
3 g
Sugars
16 g
Protein
8 g
Sodium
90 mg
Potassium
60 mg