P.S. I Love You Salad
Walnuts, chocolate, pomegranate, honey, canola oil and fruit just say I love you!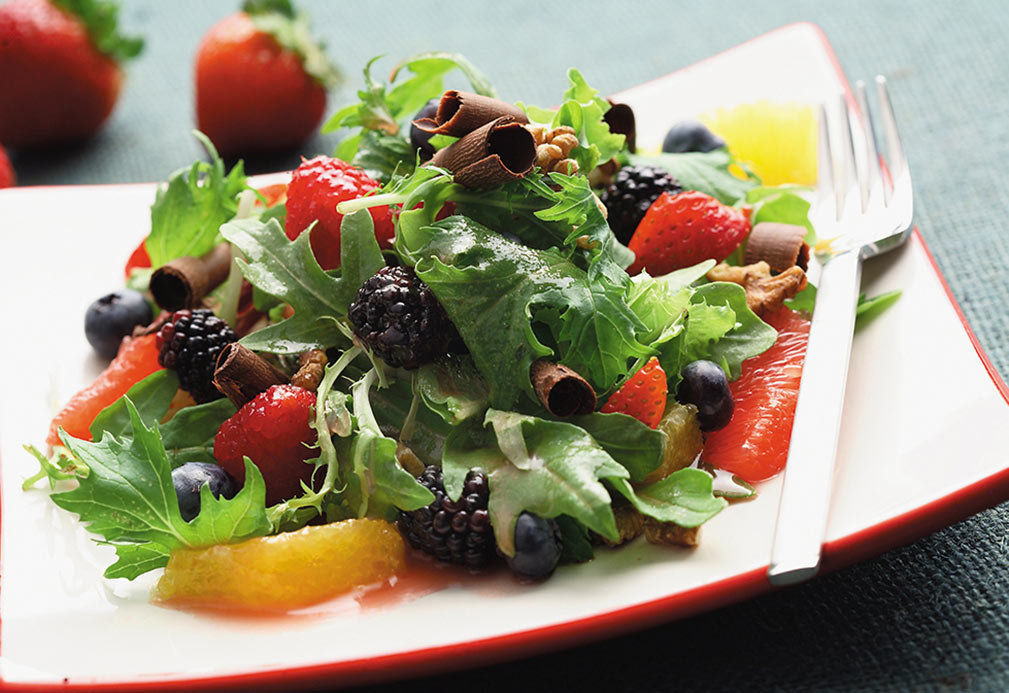 Ingredients
Pomegranate Dressing
1/2 cup pomegranate juice 125 mL
2 Tbsp canola oil 30 mL
1 tsp honey 5 mL
Salad
1 (10 oz/284 g) bag of mixed greens
1 orange, peeled and cut into segments
1/2 cup strawberry slices 125 mL
1/2 cup raspberries 125 mL
1/2 cup blueberries 125 mL
1/4 cup toasted walnuts, coarsely chopped 60 mL
1/2 cup dark chocolate shavings 125 mL
Instructions
1. To make dressing: In a small bowl, whisk together pomegranate juice, canola oil and honey. Set aside.
2. Rinse salad greens in water; Drain well. Place in a large salad bowl. Add fruit, nuts and dressing and toss lightly. Divide salad among four large plates. Rearrange fruit to make attractive presentation. Divide chocolate shavings over top of each salad plate. Serve immediately.
Note: To get health benefits, make sure you use dark chocolate (about 70% cocoa solids) and not milk chocolate.
Tips: Make sure your greens are dry, so the dressing will cling to the greens. When making dressing, slowly add canola oil to the juice. The honey helps to thicken the dressing and keep it from separating. 
Yield
8 servings
serving size
nutritional analysis
Per Serving
Calories
130
Total Fat
9 g
Saturated Fat
0.5 g
Cholesterol
0 mg
Carbohydrates
12 g
Fiber
3 g
Protein
2 g
Sodium
10 mg