Roasted Squash and Mushroom Ravioli
Simple flavors come together to create tasty ravioli that can be enjoyed simply with canola oil and vinegar or your favorite pasta sauce. Try them baked as a crispy appetizer!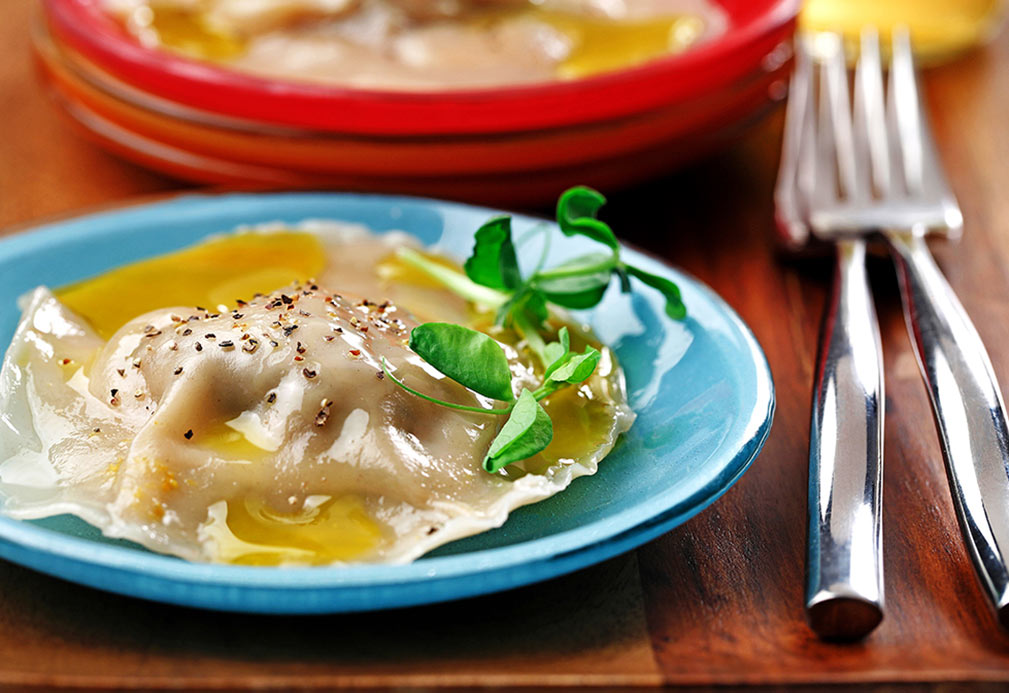 Ingredients
4 cups cubed peeled butternut squash 1 L
1 Tbsp canola oil 15 mL
5 cloves garlic, divided
1/4 cup chopped fresh parsley, divided 60 mL
1 Tbsp chopped fresh thyme, divided 15 mL
canola oil cooking spray
1/4 tsp ground black pepper 1 mL
1/4 cup reduced sodium vegetable or chicken broth 60 mL
1 pkg (8 oz/250 g) pre-sliced cremini mushrooms
1/4 tsp ground black pepper 1 mL
1 pkg (14 oz/400 g) wonton wrappers
2 Tbsp canola oil (cold-pressed if available) 30 mL
2 Tbsp aged balsamic vinegar 30 mL 
Instructions
1. Preheat oven to 400 °F (200 °C). 
2. In large bowl, toss together squash, canola oil, 3 cloves garlic, 2 Tbsp (30 mL) parsley and 2 tsp (10 mL) thyme. Spread onto parchment paper-lined baking sheet and roast for 30 minutes or until golden and tender.
3. Meanwhile, spray nonstick skillet with canola oil cooking spray and cook mushrooms with remaining thyme and pepper for about 8 minutes or until golden and liquid evaporates. 
4. Into food processor, scrape squash and add broth. Purée until smooth. Pulse in mushrooms. 
5. Lay wonton wrappers out and place 1 Tbsp (15 mL) squash filling in center of each wrapper. Use a little water on your finger to moisten edges of ravioli and top with another wonton wrapper. Place on parchment paper-lined baking sheet. Repeat with remaining ingredients. 
6. Bring pot of water to a boil and cook ravioli for about 5 minutes or until they float to top as tender but firm. Remove ravioli using slotted spoon into shallow serving dish and drizzle with canola oil and vinegar, if desired. Sprinkle with remaining parsley to serve.
Yield
10 Servings
serving size
3 ravioli
nutritional analysis
Per Serving
Calories
60
Total Fat
1.5 g
Saturated Fat
0 g
Cholesterol
0 mg
Carbohydrates
11 g
Fiber
1 g
Protein
2 g
Sodium
80 mg