Rosemary Sweet Beet, Sweet Potato Roast
Roasted beets, sweet potatoes and bell peppers make a fabulous side dish to serve during cooler months. To prevent your fingers from staining while peeling beets, use a vegetable peeler under running water. Be sure to pat dry the peeled beets on paper towels before tossing with oil for proper browning. Canola oil's smoke point makes it perfect for high temperature cooking.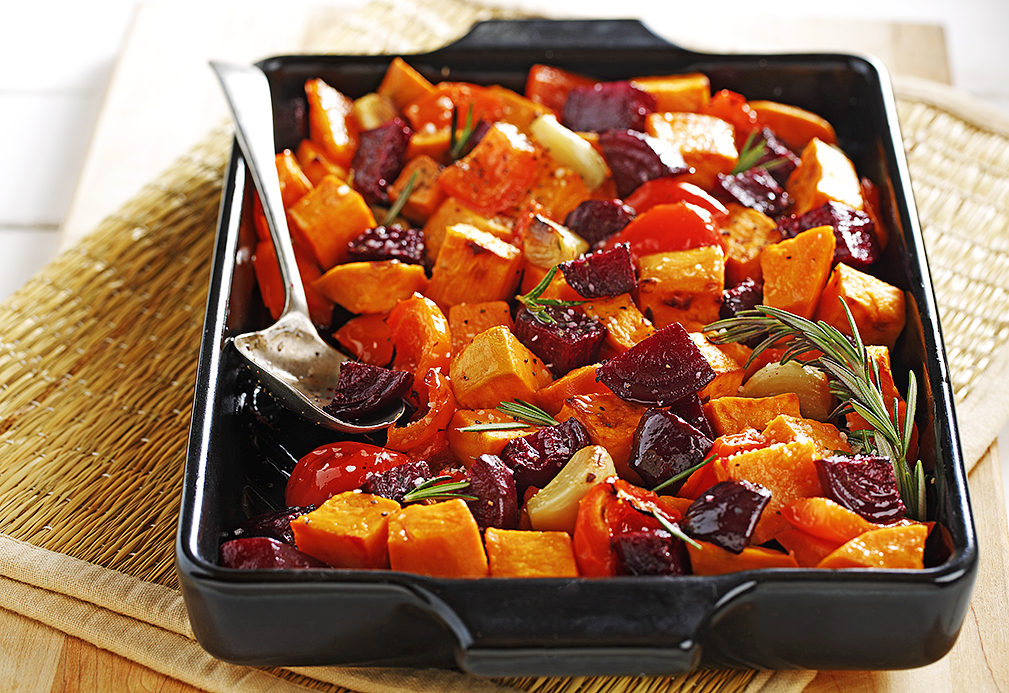 Ingredients
12 oz. peeled beets, cut in 1-inch (2.5 cm) chunks (about 3 medium beets) 350 g
8 oz. peeled sweet potatoes, cut in 1-inch (2.5 cm) chunks 250 g
1 1/2 Tbsp canola oil 20 mL
1 red or green bell pepper, cut in 1-inch (2.5 cm) chunks
8 garlic cloves, peeled
1/2 tsp chopped fresh rosemary 2 mL
1/4 tsp salt 1 mL
1/4 tsp ground black pepper 1 mL
Instructions
1. Preheat oven to 425 °F (220 °C).
2. Line a baking sheet with foil. Place beets and potatoes on baking sheet; toss with oil and arrange in a single layer. Bake 10 minutes, stir in peppers and garlic. Rearrange in single layer; bake 20 minutes or until potatoes are very tender. Remove from oven.
3. Sprinkle with rosemary, salt and pepper. Stir gently; pull up the edges of the foil, seal ends and let stand 10 minutes to release natural juices and absorb flavors.
Yield
4 servings
serving size
3/4 cup (175 mL)
nutritional analysis
per serving
Calories
150
Total Fat
6 g
Saturated Fat
0 g
Cholesterol
0 mg
Carbohydrates
24 g
Fiber
5 g
Sugars
10 g
Protein
3 g
Sodium
250 mg
Potassium
579 mg