Salmon Arugula Salad with Blueberry Pomegranate Vinaigrette
This vinaigrette perfectly complements a piece of flaky salmon over arugula greens. Double the vinaigrette and store it away for future salads!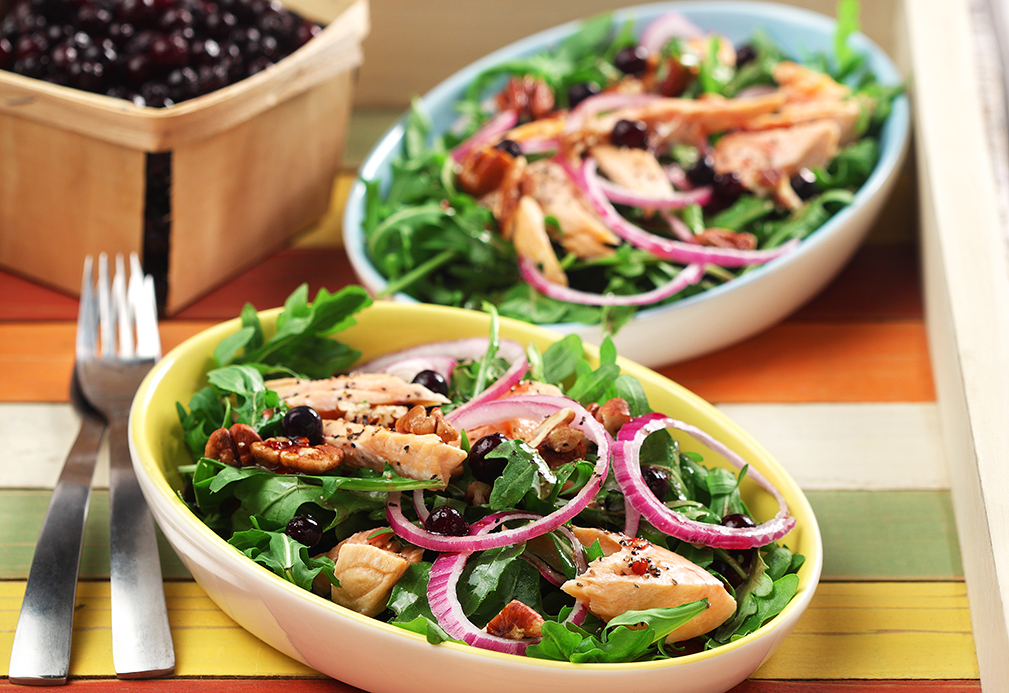 Ingredients
Dressing
1/3 cup blueberry pomegranate juice 75 mL
2 Tbsp granulated sugar (or can use pourable sugar substitute) 30 mL
2 tsp grated lemon or lime zest 10 mL
2 Tbsp lemon or lime juice 30 mL
2 Tbsp white balsamic vinegar 30 mL
2 Tbsp canola oil 30 mL
1/4 tsp salt 1 mL
1/4 tsp pepper flakes 1 mL
Salad
8 cups arugula (about 6 oz/170 g) 2 L
1/2 cup thinly sliced red onions (2 oz/60 g) 125 mL
1 cup blueberries 250 mL
1 pouch (6 oz/170 g) salmon, flaked
1 oz (about 1/4 cup/60 mL) slivered almonds or pecans, toasted 30 g
coarsely ground black pepper
Instructions
1. In small jar, combine pomegranate juice, sugar, lemon zest, lemon juice, vinegar, canola oil, salt and pepper flakes. Secure tightly with lid and shake vigorously until well blended.
2. Arrange equal amounts of arugula, onions and berries on each of four dinner plates. Shake jar vigorously and spoon equal amounts of salad dressing over each (3 Tbsp/45 mL each). Sprinkle evenly with salmon, nuts and top with black pepper. Serve immediately for peak flavors and texture.
Tip: Salad dressing may be made up to a week in advance, but the intensity of the pepper flakes will increase slightly.
Yield
4 servings
serving size
2 1/2 cups (625 mL) salad and 3 Tbsp (45 mL) dressing
nutritional analysis
Per Serving
Calories
210
Total Fat
12 g
Saturated Fat
1 g
Cholesterol
20 mg
Carbohydrates
16 g
Fiber
4 g
Protein
11 g
Sodium
190 mg