Salmon with Sliced Zucchini
This beautiful pink and green dish is culinary simplicity at its finest. Minimal ingredients flavor the salmon while canola oil takes the heat of sautéing the fillets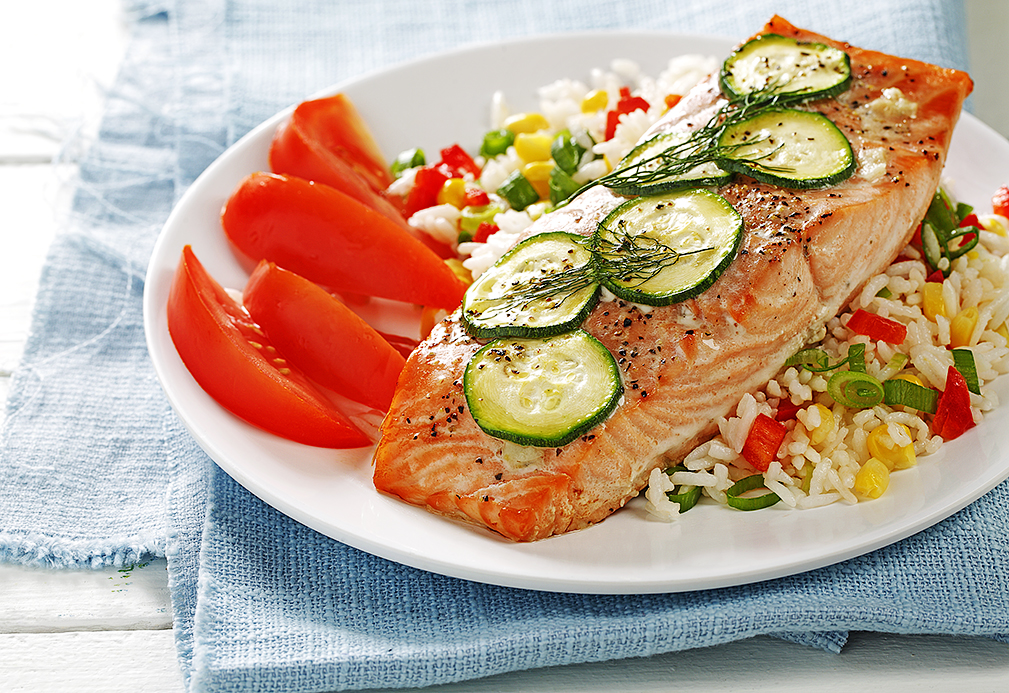 Ingredients
4 (4 oz/125 g) salmon fillets
1/4 tsp salt 1 mL
1/2 tsp ground black pepper, divided 2 mL
1 garlic clove, minced
1 cup thinly sliced zucchini 250 mL
1 tsp dill 5 mL
1 Tbsp canola oil 15 mL
Instructions
1. Season salmon fillets with ¼ tsp (1 mL) black pepper, ¼ tsp (1 mL) salt and garlic. Top salmon with zucchini slices, remaining black pepper and dill.
2. In skillet, heat canola oil over medium-high heat. Place salmon fillets in skillet.
3. Cover skillet and cook for about 7 minutes or until salmon begins to change color. Serve with pasta or rice.
Yield
4 servings
serving size
1 fillet
nutritional analysis
Calories
180
Total Fat
9 g
Saturated Fat
1 g
Cholesterol
50 mg
Carbohydrates
2 g
Fiber
0 g
Sugars
1 g
Protein
24 g
Sodium
230 mg
Potassium
507 mg