Spinach Salad with Seared Bok Choy, Ginger and Cilantro
This Asian-inspired recipe is alive with shades of green from spinach and bok choy and distinct flavors of soy sauce, ginger and garlic. Using canola oil to sear the bok choy allows the vegetables to soften slightly while bringing out its natural, subtle sweetness. And when you arrange the sautéed bok choy over fresh spinach, the warmth gently wilts the spinach leaves. The result is a mouth-watering medley of tastes and textures.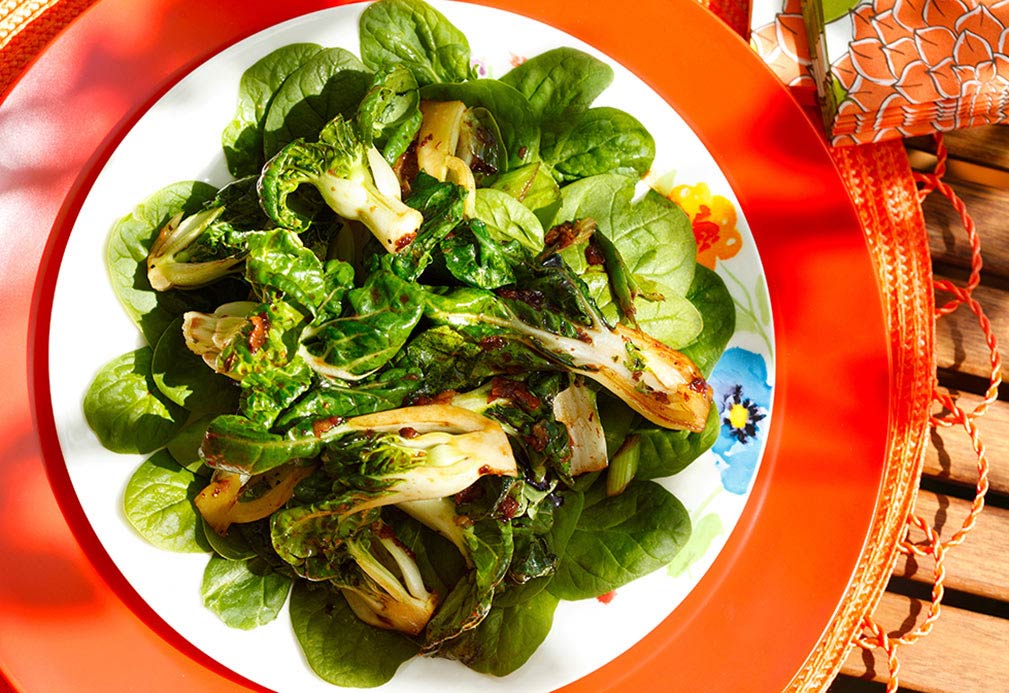 Ingredients
1 Tbsp canola oil 15 mL
1 bunch bok choy, rinsed well and chopped (4 cups/1 L)
1/3 cup chopped whole green onions 75 mL
2 cloves garlic, minced
1 tsp minced fresh ginger 5 mL
1 Tbsp reduced-sodium soy sauce 15 mL
1/4 tsp freshly ground black pepper 1 mL
2 Tbsp chopped fresh cilantro 30 mL
4 cups fresh baby spinach leaves 1 L
Instructions
1. In large skillet, heat canola oil over medium-high heat. Add bok choy, green onions, garlic and ginger and cook 2-3 minutes or until bok choy is tender-crisp. Add soy sauce and pepper, stir to coat and cook 1 minute. Remove from heat and stir in cilantro.
2. Arrange spinach leaves on serving platter. Spoon bok choy mixture over spinach and serve.
Tip: To turn this salad into a complete meal, top it with white, black or pink beans (drained and rinsed), grilled or seared tofu, grilled or roasted chicken breast, or grilled or steamed shrimp.
Yield
4 servings
serving size
2/3 cup (150 mL) bok choy mixture, 1 cup (250 mL) spinach
nutritional analysis
Per Serving
Calories
50
Total Fat
3.5 g
Saturated Fat
0 g
Cholesterol
0 mg
Carbohydrates
5 g
Fiber
2 g
Protein
1 g
Sodium
140 mg