Taco Salad With Homemade Pita Wedges
This is a tasty recipe that works as a side or main dish salad. Using canola oil in the dressing keeps the saturated fat low and allows the savory and sweet flavors to shine through.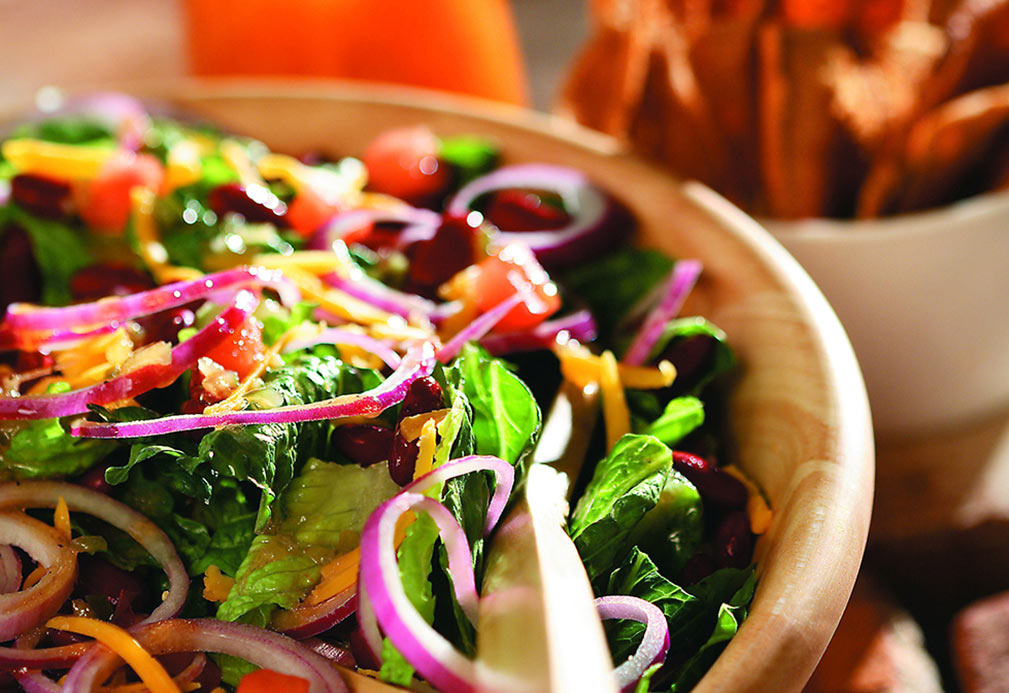 Ingredients
Dressing
1 cup canola oil 250 mL
1/4 cup white vinegar 60 mL
2 Tbsp lime juice 30 mL
1 garlic clove, minced
1/4 tsp dry mustard 1 mL
2 Tbsp sweet pickle relish 30 mL
2 Tbsp ketchup 30 mL
1/2 tsp salt 2 mL
1/8 tsp pepper 0.5 mL
Salad
1 head romaine lettuce, washed and torn
1 (15 oz/443 mL) can red kidney beans, drained and rinsed
1/2 cup low-fat cheddar cheese 125 mL
1/4 cup red onion, sliced 60 mL
1 tomato, diced
2 small whole wheat pitas, split in half and quartered
Instructions
1. In a bowl, whisk together canola oil, vinegar, lime juice, garlic, mustard, relish, ketchup, salt and pepper. Refrigerate until ready to use. If refrigerated, the dressing will keep for three to four days.
2. Preheat oven to 350°F (175°C). Brush each pita quarter with 1/2 tsp (2 mL) of dressing. Place on baking sheet and bake for 8-10 minutes or until crisp.
3. In a large bowl, combine lettuce, beans, cheese, onion and tomatoes. Divide salad into 8 servings. Add 2 Tbsp (30 mL) dressing to each serving and toss. Serve with baked pita wedges.
Yield
8 servings
serving size
nutritional analysis
Per Serving
Calories
250
Total Fat
17 g
Saturated Fat
1 g
Cholesterol
0 mg
Carbohydrates
19 g
Fiber
6 g
Protein
7 g
Sodium
210 mg