Toasted Sesame Carrot and Sweet Potato "Noodles"
Lower in calories and higher in fiber than regular noodles, vegetable "noodles" are a great choice.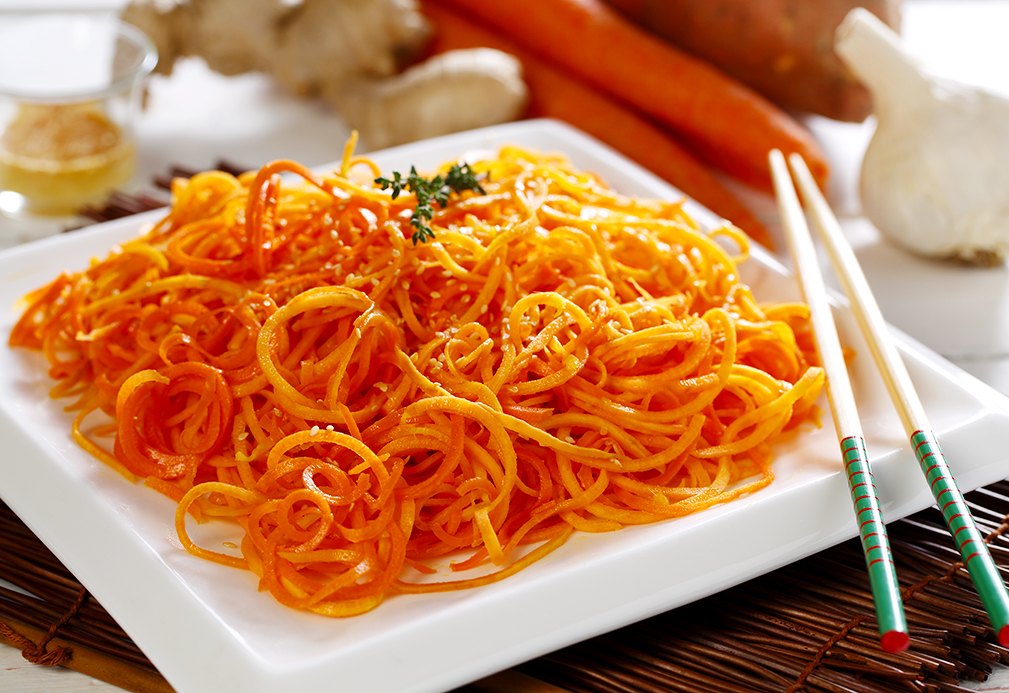 Ingredients
1/4 cup sesame seeds, divided 60 mL
3 large carrots, peeled
1 large sweet potato, peeled
2 Tbsp rice vinegar 30 mL
1 tsp minced garlic 5 mL
2 tsp grated fresh ginger root 10 mL
1 tsp honey 5 mL
2 Tbsp canola oil 30 mL
Instructions
1. Toast sesame seeds: In large saucepan, place sesame seeds and warm over medium-high heat for about 5 minutes or until golden and beginning to "pop." Remove and set aside.
2. Make "noodles" from carrots and sweet potato by using a vegetable spiralizer or a vegetable peeler.
3. Prepare dressing: In a glass jar with a lid, shake together rice vinegar, garlic, ginger root, honey, and 2 Tbsp (30 mL) sesame seeds. Set aside.
4. Cook noodles: In a saucepan over medium-high heat, sauté "noodles" in canola oil, stirring for about 5–8 minutes or until still tender-crisp. (Avoid overcooking, which can make the "noodles" overly soft.)
5. To serve: Drizzle "noodles" with dressing and sprinkle with remaining 2 Tbsp (30 mL) of toasted sesame seeds.
Yield
6 servings
serving size
1/3 cup (75 mL)
nutritional analysis
Per serving
Calories
110
Total Fat
7 g
Saturated Fat
0 g
Cholesterol
0 mg
Carbohydrates
10 g
Fiber
2 g
Sugars
4 g
Protein
2 g
Sodium
45 mg
Potassium
193 mg